All Saints Desserts
Panellets, wind fritters, saint bones, roasted chestnuts are some of the most typical sweets and desserts to celebrate the Day of Saints.

on today's menu
29 October 2019
Share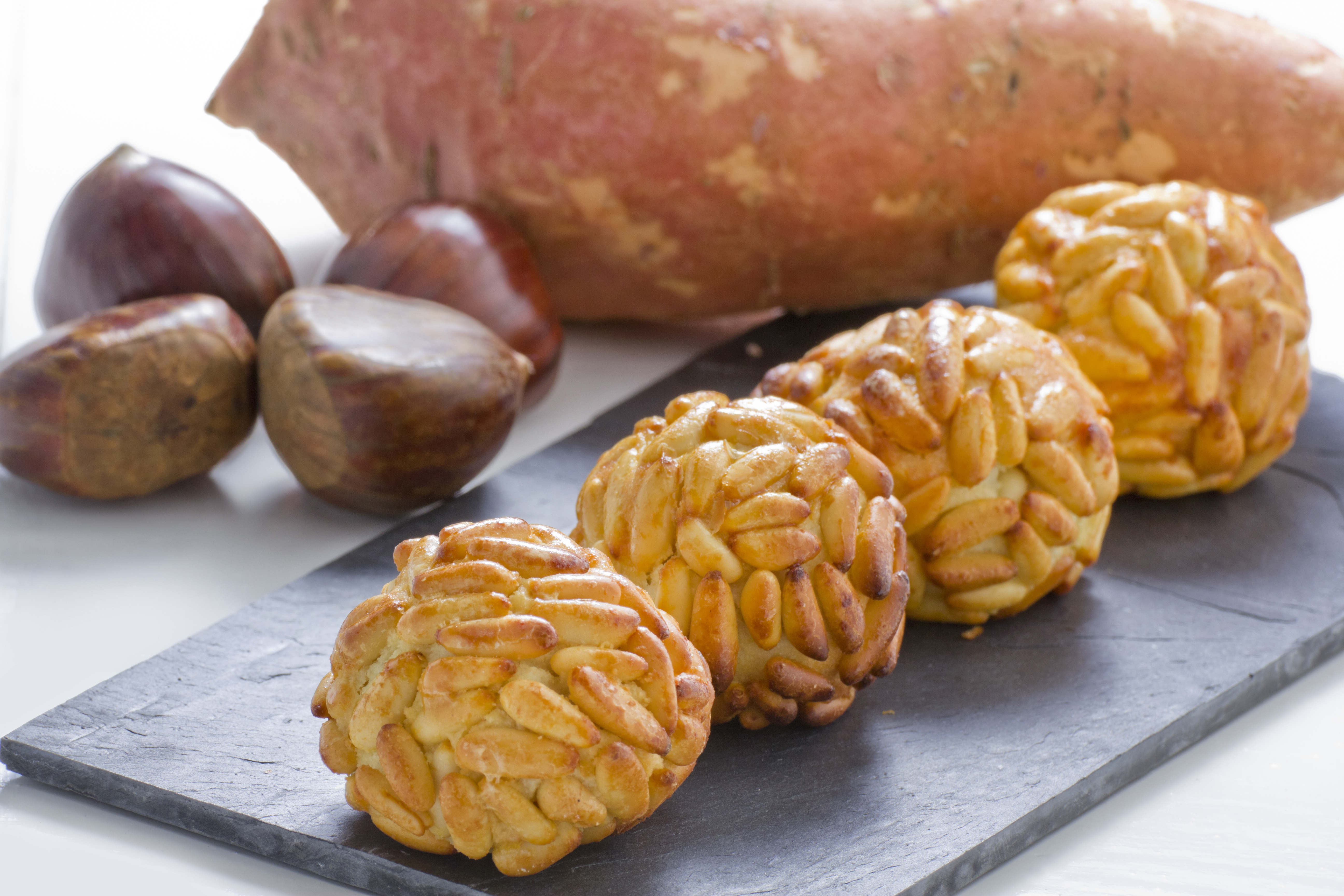 All Saints Day is celebrated in Spain on the 1st of November as a religious festival in which deceased loved ones are remembered by visiting cemeteries. However, as with other festivities in our country, the celebration of this festival is closely linked to a varied gastronomy, especially as regards desserts. Now let's review the most tradtional and popular.
Chestnuts at home
Baking chestnuts at home is very easy. For 4-6 people, you'll need about 600 grams of chestnuts and some salt. Make a small cut in each chestnut and put them on the tray, with the oven preheated at 200 °C, for 20-25 minutes. Then season and you're ready to eat.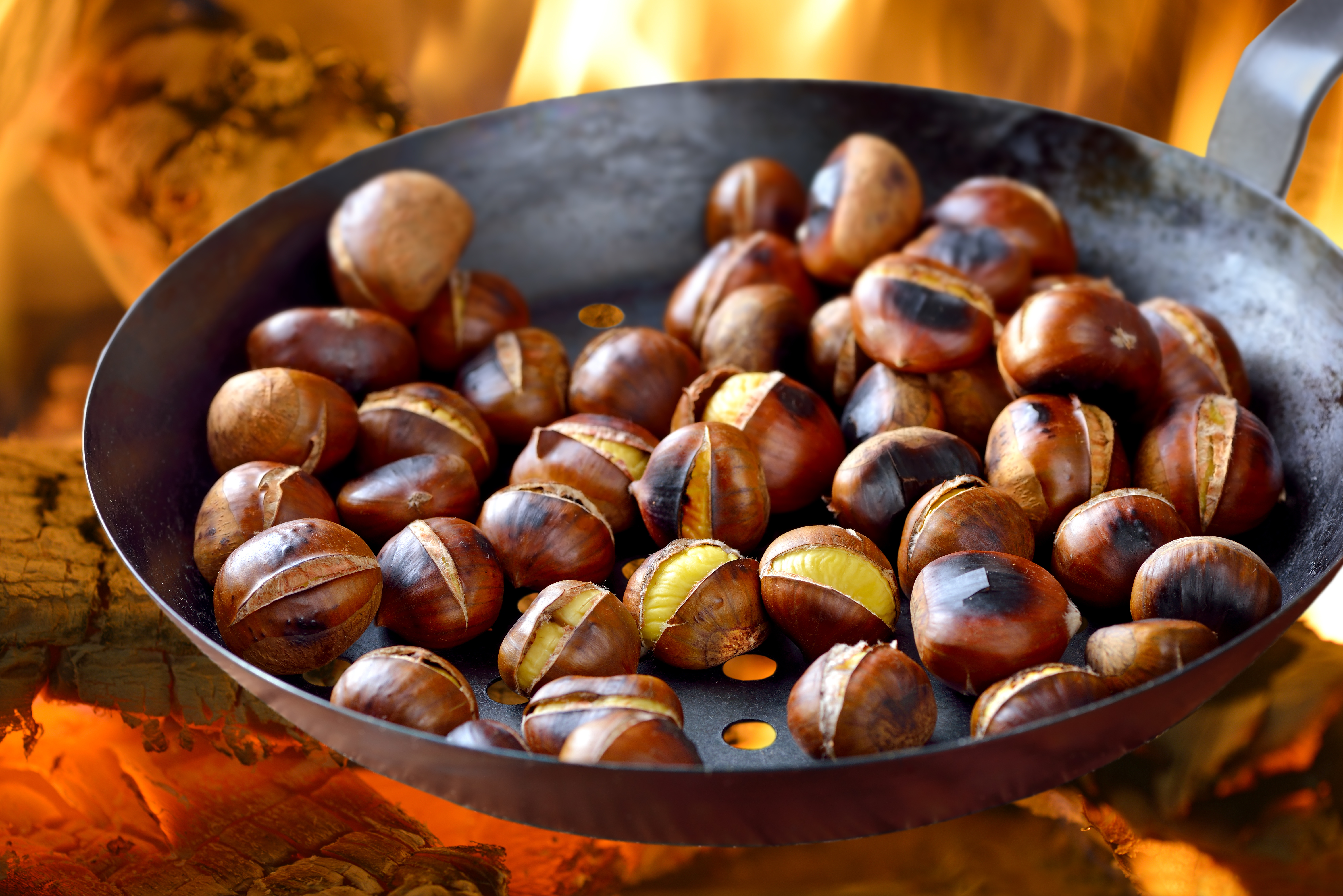 Arrope and calabazate
Arrope and calabazate is a traditional dessert from the Murcia region. But as with every recipe, it has its varieties and peculiarities, depending on the geographical area and the local products. But this dessert mainly consists of making a syrup from dried figs and adding the calabazate, which is a mixture of quinces, melon and sweet potatoes prepared with lime and broken into pieces. Its sweetness comes from figs, as there is no added sugar.
Ingredients
- 3 kg pumpkin
- 6 l water
- 1 kg kgof lime (calcium oxide, sold in pharmacies)
- 750 gr sugar
- 6 kg of dried black figs
- 1 yam
- ½ a melon
- 1 kgof pears
Preparation
- To make the arrope, clean the figs, cut them in half and leave them to soak in water overnight.
- Takethem out of the water the next day and put them to one side, boil them in cleanwater. When they have been boiling for about 3 hours, add more water until thefigs have disintegrated and you have a completely black broth. Then use a clothto sieve the broth and remove the fig seeds. Once the broth has been sieved, put it back in a pan and simmer, so thatthe water evaporates and only the fig juice is left
- To make the calabazate, place it in a pot with about 9 litres of water, with the lime and let it boil. Turn of the gas and the calcium will sink to the bottom of the pan, leaving the water clear.
- When the water is clear, put it in another saucepan taking great care not to remove the lime on the bottom.
- Add the fruit and let it soak for at least 8 hours.
- Then remove the fruit, wash it well with tap water and add it to the arrope which should be boiling. Let it boil until the fruit is a little tender, then remove it and let it cool.
Arrop i tallaetes
This the Valencian version of the previous recipe. The big difference here is that syrup is made with grape must and not with dried figs and fruit. And although we can use the one like best, the usual thing to make pumpkin "tallaetes".
Ingredients
- 1 kg of lime (calcium oxide, sold in pharmacies)
- 2 l of must
- 2 l of water
- 500 g of pumpkin
Preparation
- First prepare the pumpkin. For 3 kg of pumpkin 1 kg of lime is needed.
- Put 2 l of water and 200 g of lime in a large pot and let boil.
- Switch off the flame and let the lime sink to the bottom of the pan. The water should be transparent.
- Meanwhile, peel and cut the pumpkin into slices and tacos.
- When the water is clear (without removing the lime on the bottom) put it in another saucepan and leave the pumpkin to soak for at least 8 hours.
- Then remove the pumpkin and wash it well with tap water. The pumpkin is now ready.
- To make the must syrup, bring it to the boil in a saucepan with medium heat. Reduce it by half until there is a very dark syrup.
- Mix the arrop and the pumpkin in a bowl until it is well soaked. Once the mixture is cold, it is ready to eat.
Wind fritters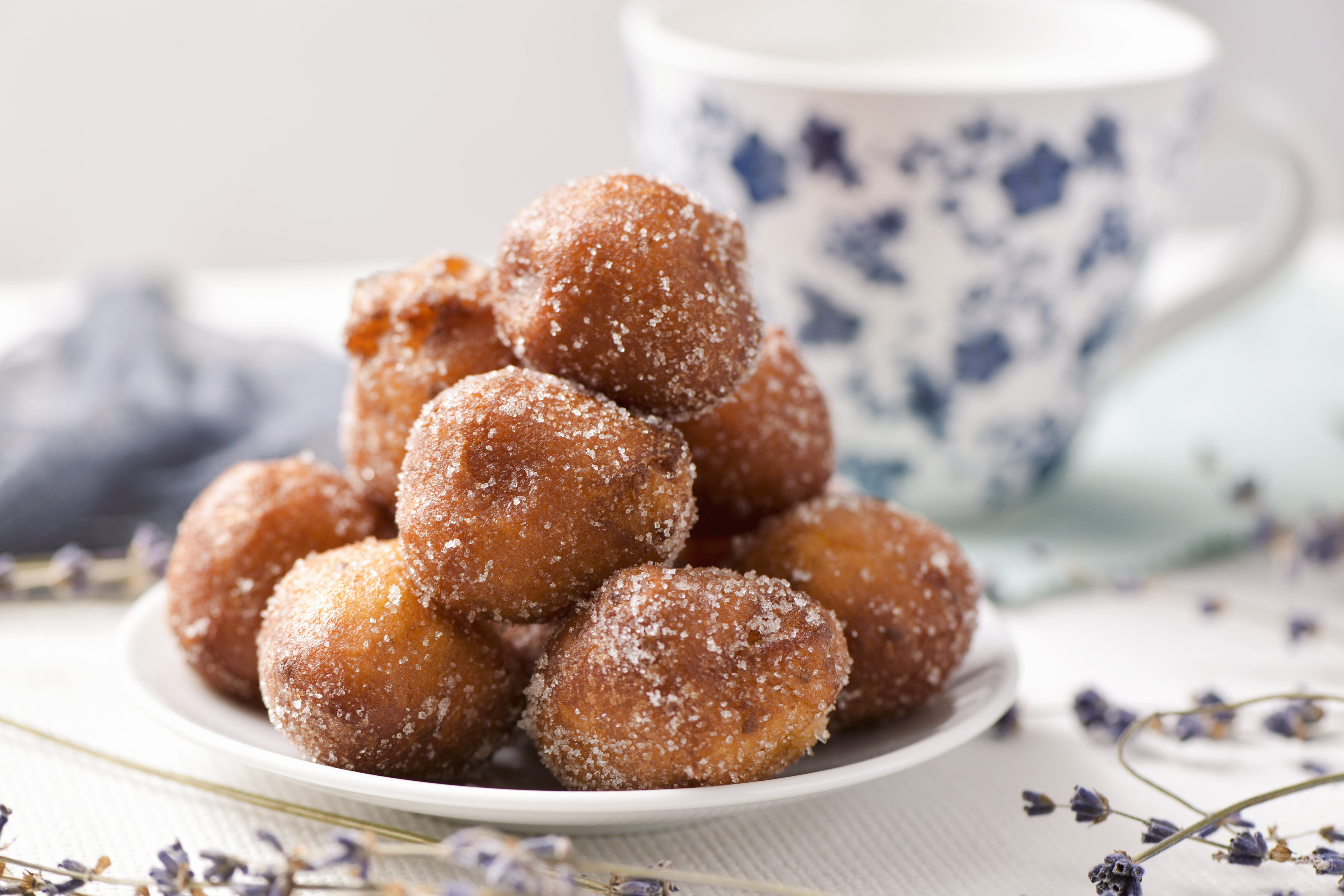 Ingredients
- 500 g of warm water
- 40 g of fresh pressed yeast from bakery
- 500 g of strong flour
- 1 pinch of salt
- 1 teaspoon of sugar
- 300 g sunflower oil for frying
- 150 g sugar


Preparation
- Put the yeast in a bowl of warm water and beat well.
- Add the flour, salt and a teaspoon of sugar and continue to mix until you have an even dough.
- Leave the dough in a bowl, cover it with cling film and let it settle for 30 minutes.
- Put the oil in a deep-frying pan and when it's hot, fry the fritters. Take small balls of dough and make a hole in the centre with a finger so they can be place in the hot oil. Once fried, drain them on grease-proof paper, place them in a fountain and sprinkle them with sugar.
Saint's bones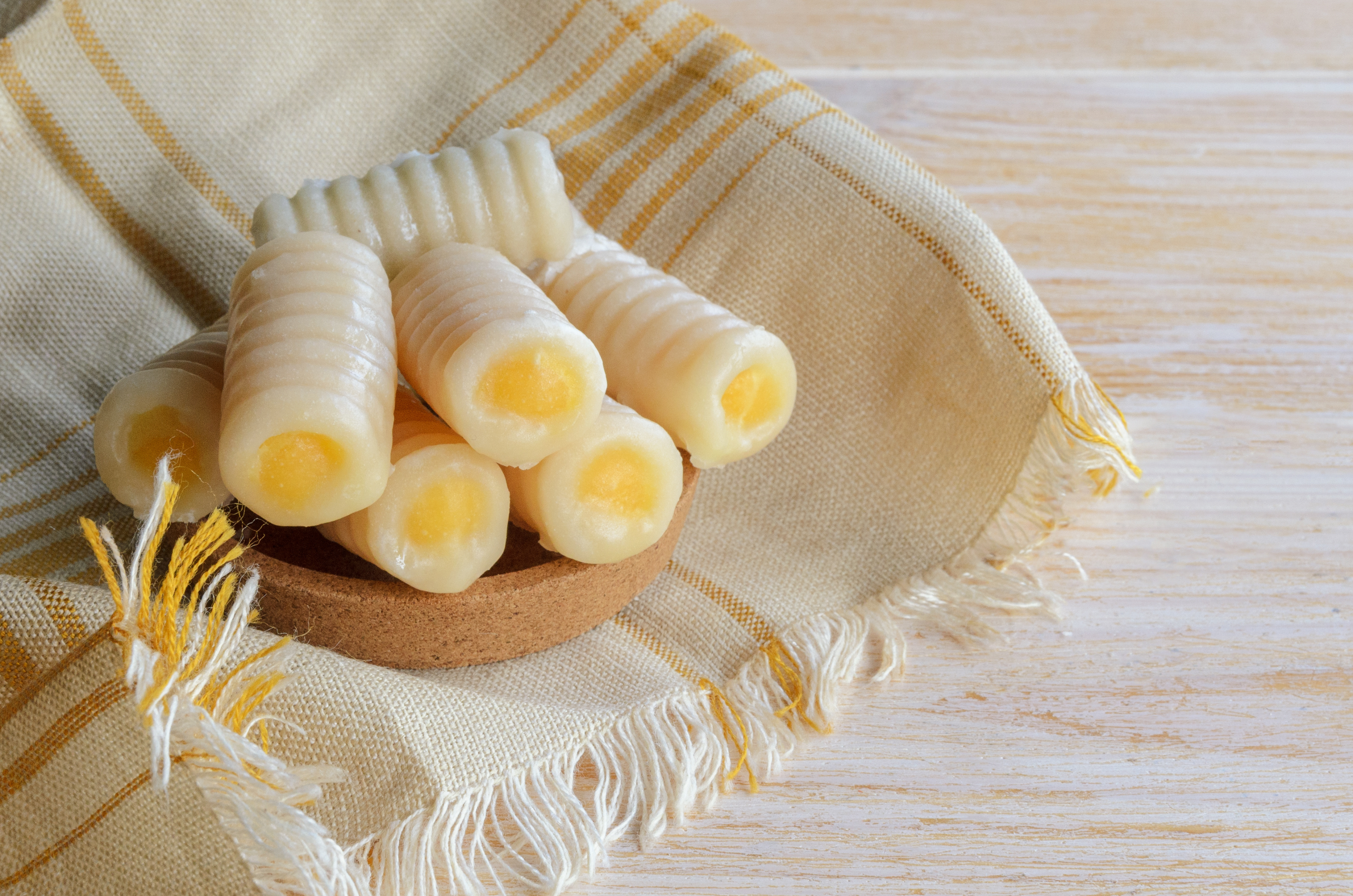 Saint's Bones are a traditional dessert made with marzipan and yolk cream. Their traditional, elongated and cylindrical shape is reminiscent of a bone and marrow, hence the name and its connection with traditional All Saints' Day dishes. They are simple to prepare but require drying time. So, it's best to start the process with enough time to enjoy them in perfect condition.
Ingredients
For the marzipan:
- 200 g sugar
- 100 g of water
- 150 g of ground almond
- Icing Sugar

For the filling:
- 100 g sugar
- 50 g of water
- 4 egg yolks
Preparation
- To prepare the marzipan,pour the water and sugar into a saucepan and add the almond, bring to a boiland stir well to form a paste. Then let it cool for a few hours.
- Then prepare the sweetyolk, making a syrup by heating sugar and water. Put to one side. Then beat theegg yolks in a bowl and gradually add the syrup while stirring. Put it back inthe casserole dish where the syrup was made, using a bain-marie, stirring untilit is very thick. It is important that it never boils so that it keeps itscreamy consistency. Let it cool.
- To make the bones: kneadthe marzipan and flatten it on a flat surface sprinkled with icing sugar.
- Cut four-inch strips andthen cut them into squares. Roll each square around a round mould, such as akitchen utensil handle.
- Form small cylinders withyour fingers, which look like bones, and roll them in icing sugar. Remove themfrom the round mould, allowing them to dry vertically and carefully fill themwith the yolk cream using a pastry sleeve. Glaze and leave to dry beforeserving.
Panellets
Panellets are almond-shaped cupcakes in the shape of a ball and the size of a walnut, which are prepared on All Saints Day. There are different versions: with grated coconut, cocoa or rolled with almonds in sheets.
Ingredients
- 2 eggs
- 250 g sugar
- 250 g of ground almond
- 150 g of potato or cookedyam
- 60 g of pine nuts
-100 g sugar
Preparation
- Cook the potato and thesweet potato without removing the skins. When they are soft, remove them fromthe water and drain well before mashing with a fork. Put to one side.
- Mix an egg with sugar andground almond in a bowl. Then add the yam and mix well until you have a smoothpaste.
- Make small balls with theyam dough. The approximate size of a walnut is recommended, shaping it with ahand on a flat surface sprinkled with icing sugar.
- Beat the egg you put to oneside and 'paint' this on the panellets with a brush, then coat them with thepine nuts before placing them on grease-proofed paper in the oven.
- Place the tray in themiddle of a pre-heated oven and cook at 180 °C for about 15 minutes or until itstarts to brown.
- Allow to cool beforeeating.