Tuna recipes: simple and tasty
Discover the best tuna recipes to make simple and tasty dishes made with this blue fish. We tell you how to cook with tuna.

on today's menu
Share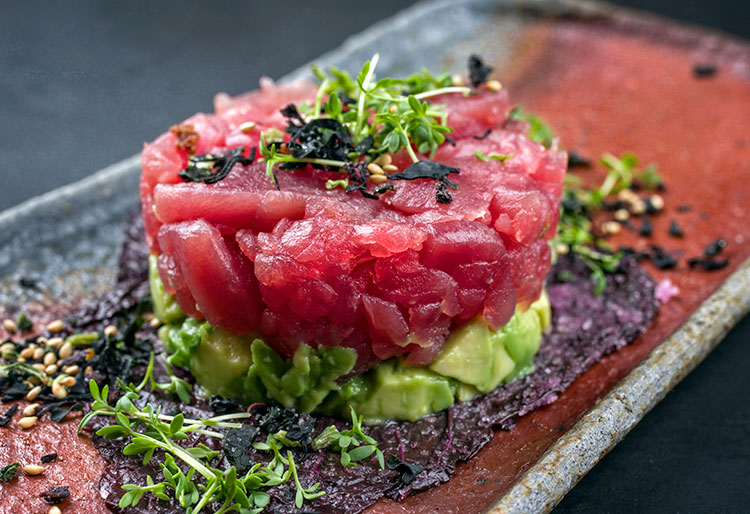 Tuna is one of the most widely eaten blue fish in Spain. Its nutritional composition rich in omega-3, proteins, vitamins and minerals, makes tuna a very beneficial fish for our health. In addition, as it can be eaten both as a fillet and tinned, it makes this fish suitable to accompany a large number of dishes.
Below, we give you some examples of recipes to be able to make the most of this nutritional fish.
T

una tartare
Tartare is a dish based on fish or raw meat, in small pieces, marinated in lemon and which is seasoned with spices and sauces. It is usually served on toast as an attractive, fresh and tasty starter or aperitif.
Ingredients (4 people)
- 300 g of fresh red tuna
- 2 avocados
- ½ spring onion
- ½ lemon or lime
- 3 tablespoons of soy sauce
- Wasabi (one tablespoon, optional, if you like it spicy)
- 1 tablespoon of sesame oil
- ½ tablespoon of ginger
- Sesame seeds for decoration
- Virgin extra olive oil
- Salt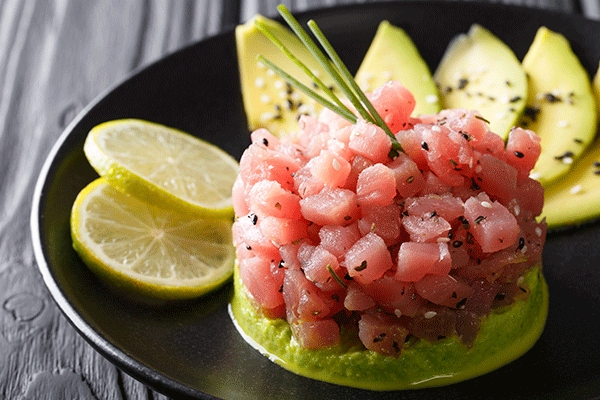 Method:
1. Chop the spring onion very finely and put to one side. Next, dice the tuna into small pieces and put to one side as well.
2. In a bowl, mix the sesame oil, soy sauce, wasabi to taste, ginger and a little salt (take care not to over salt it since soy sauce itself is salty)
3. Add the tuna and spring onion to this mix and stir it well so that it is permeated by the sauce. Leave it to rest for half an hour, although it will be even more full of flavour if made the day before.
4. When you are going to eat it, cut the avocado into small cubes and place in another bowl. Drizzle with lime juice, a little salt and a tablespoon of olive oil.
5. When the tuna has rested enough, get the dishes ready.
6. For a better presentation, you can use a plating mould, if you don't have one you can make it by cutting the bottom out of a tin of tuna with a tin opener and cleaning it well to avoid cuts.
7. Place the mould on the plate and fill the bottom with a layer of avocado (up to halfway up the mould). Squash it down gently with a spoon.
8. Add the tuna, squashing it down in the same way.
9. Remove the mould, sprinkle with sesames and it's ready to eat!


Tuna cooked with onions
Ingredients (4 people)
- 600 g of tuna fillets
- 4 onions
- 5 g of sweet paprika
- 1 bay leaf
- 1 sprig of thyme
- 50 ml of dry white wine
- 20 ml of Sherry vinegar
- 100 ml of fish stock
- 40 g of olive oil
- 4 cloves of garlic
- 1 sprig of parsley
- Peppercorns
- Salt
Elaboración:
1. Slice the onions Julienne style and sauté them on a very low heat in a pan with a few peppercorns, thyme and bay leaf. When they begin to brown, season them, add the paprika and mix well.
2. Add the vinegar, leave to cook for 3 minutes and add the wine. Leave it to reduce. Finally, add the stock and leave it to cook slowly until the stew thickens again and the flavours have all mixed together.
3. Meanwhile, finely chop the parsley and garlic, season the tuna fillets and fry them quickly on both sides in a frying pan. At the last minute, add the chopped garlic and parsley, which shouldn't turn brown.
4. Place the fillets on an oven tray, cover them fully with the onion and place the tray in the oven at 180ºC for 5 minutes.