Recipes to prepare vegan cheese
Get a perfect texture and flavor with our recipe to easily prepare vegan cheese of different types.


on today's menu
7 November 2019
Share
Vegan cheese has burst onto the scene in recent times as an alternative to cheeses of animal origin. Although the regulations indicate that only cheese which comes from milk itself is considered cheese, the term "vegan cheese" has been extended to respond to the needs of all those who have decided to eliminate any product which comes from animals from their diet. They are called cheeses for practical purposes, although the legislation, at the time of marketing, does not allow us to call them that.

Many people who do not consume conventional cheeses confess that depriving themselves of this dairy derivative is one of the worst parts of following a vegan diet, so this is a good option for people who are missing this food.


How to make vegan cheese
Many so-called vegan cheeses are made with nuts, such as almonds or cashews, or with tofu, coconut oil or potato starch. Vegan cheeses provide fibre, unsaturated fats, proteins and can have a high caloric density if they are made with nuts, which is why experts recommend consuming them in moderation, as is the case with cheese made with milk. Although they are already being found in supermarkets, these cheeses are easy to make at home.
In the same way that conventional cheeses are stored in the refrigerator once opened, vegan cheeses should be kept in the refrigerator to preserve their properties.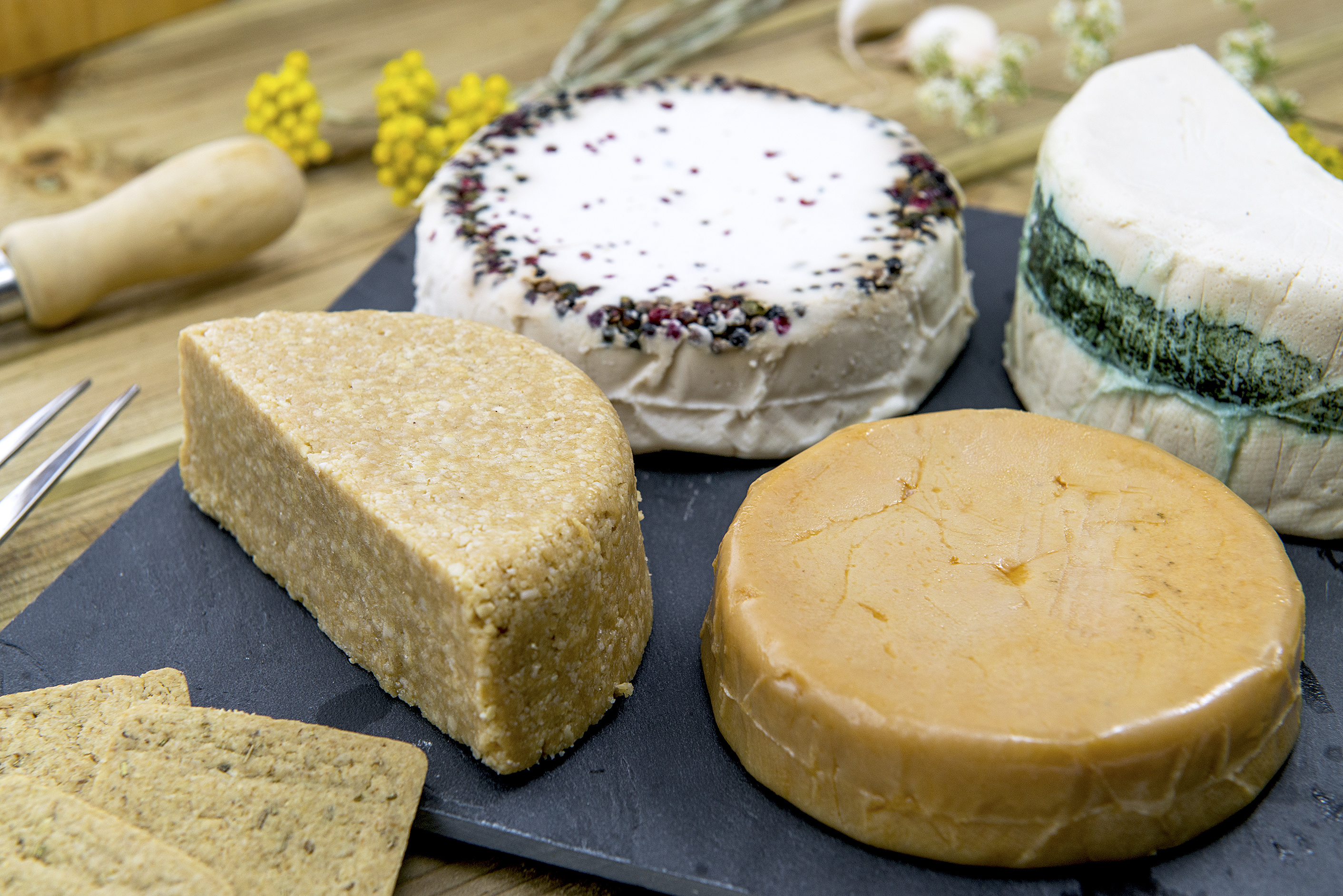 Types of vegan cheeses
In the animal cheese universe, there are many types of cheeses and this is no less the case for vegan cheeses. At home we can make them all, from the typical cheese which accompanies nachos, to cheese spread, cheddar or feta cheese or pizza cheese. These are some of the easiest and most popular recipes:

Vegan cheddar cheese for nachos

Ingredients:

-2 small potatoes (350 g)
-2 medium carrots (140 g)
-Olive oil (75 g)
-Half a cup of nutritional yeast
-2 tablespoons lemon juice
-150 ml of cooking water
-½ tablespoon onion powder
-½ tablespoon garlic powder
-Cayenne (optional)
-Salt

1. Put water in a saucepan and bring it to the boil. When it boils, add the potato and carrot cut into small cubes and a pinch of salt. Boil for 15 minutes. Strain and reserve the cooking liquid.

2. Place the cooked potatoes and carrots in a blender with the rest of the ingredients and beat well until a thin and homogeneous dough is left.

3. We store the cheese in a glass jar in the fridge. Keep in mind that when it solidifies, it becomes thicker.

Vegan almond cheese

Ingredients:

-1 cup peeled almonds
-1 cup almond milk or water
-2 tablespoons lemon juice
-½ teaspoon salt
-2 tablespoons of coconut or olive oil
-2 tablespoons baking powder


1. We let the almonds soak overnight.

2. We strain the almonds with the rest of the ingredients in the glass of the food processor. Crush until it becomes a thick cream with no lumps.

3. We put the mixture on a gauze which we put in a strainer and press with a spoon to release all the liquid.

4. We tie the ends of the gauze into a ball and put it in the fridge overnight.

5. The next day, we remove the gauze and bake the cheese for 30 minutes at a mild temperature spread with a little olive or coconut oil. If we want a creamier cheese, we will keep it for less time at a lower temperature.

6. Let it cool before consuming.

7. We can cover the cheese with different seasonings: sesame seeds, chives, thyme, rosemary or paprika.

Vegan parmesan cheese

Ingredients:

-1 cup unsalted cashews
-1/4 cup nutritional yeast or brewer's yeast
-1 teaspoon of salt
-1 teaspoon garlic powder

1. Combine the three ingredients in a blender or processor and blend until a powder texture remains. Then put in an airtight jar and keep in the fridge.