What to eat for a tan
Do you want to know what to eat for a nice tan? These foods will boost your colour. Include them in your recipes and prepare a perfect menu.

on today's menu
Share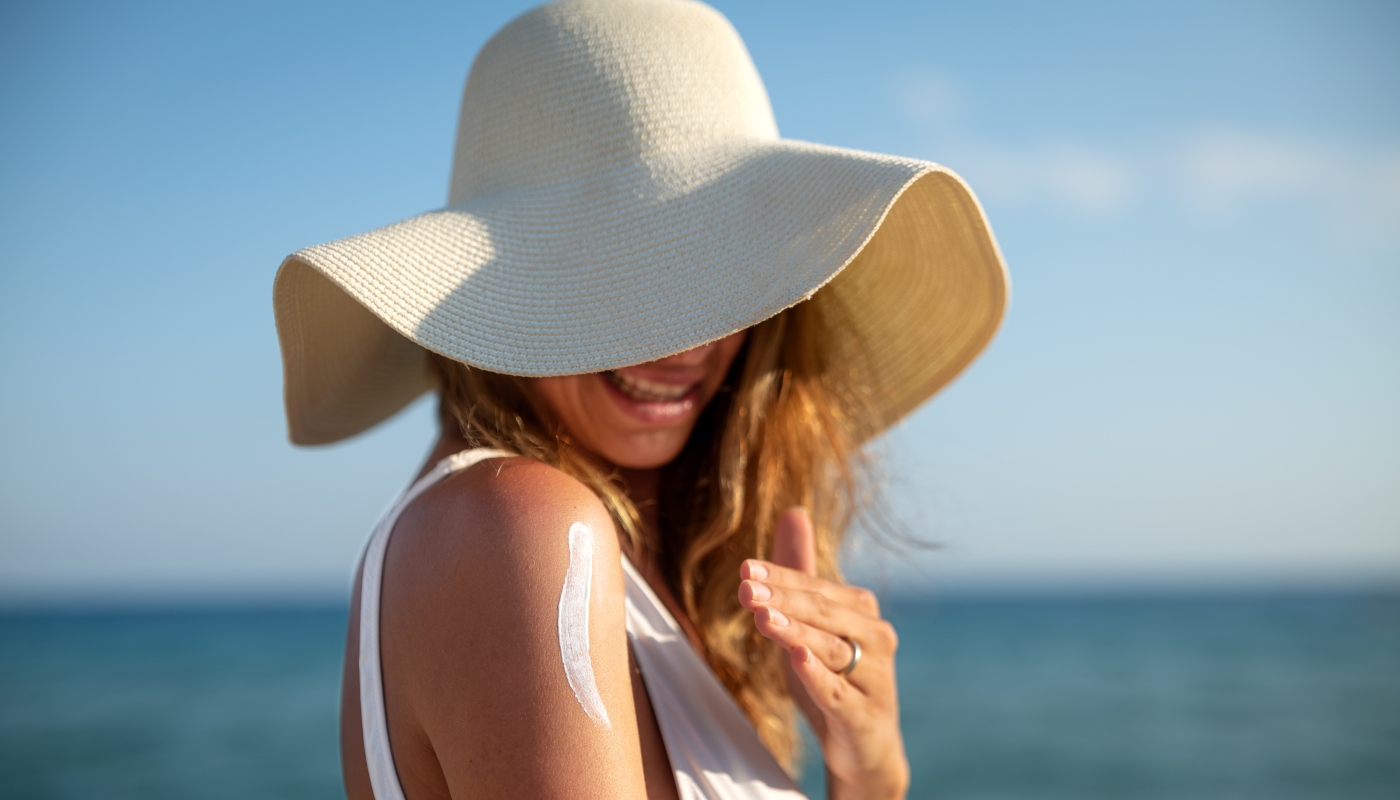 In recent years we have become more aware of the short- and long-term consequences of sun exposure. It is vital to protect the skin both inside and out. When planning our holidays, we must prepare our skin to enjoy the summer. For radiant, smooth and healthy skin, it is important to start with proper hydration and nutrition.
Foods for a tan

Water: it is important to consume 2-3 litres of liquids a day, prioritising water since it is the only drink that does not contain sugar, calories or additives. Also, do not wait to be thirsty to drink.
Bright colour foods are rich in beta-carotenes, an excellent antioxidant that helps prevent cell damage, keeping ageing at bay and activating melanin-enhancing pigmentation which promotes tanning. These include carrot, pumpkin, spinach, tomatoes, mango and papaya. Ideally, these foods should be eaten raw, although in the case of pumpkin it will need to be cooked, for example in muffins or cakes.
Healthy fats and essential fatty acids, as they promote the protection of our skin and give it a firm and shiny appearance.
Vitamin C, which is a great ally for our skin as it is essential to prevent ageing resulting from UV rays. It is important to increase our consumption of foods rich in this vitamin, since, being an antioxidant, it is involved in the process of collagen synthesis and prevents and delays the appearance of wrinkles on the skin. Orange, red pepper, blackcurrant, kiwi and strawberry are some of the foods that have a significant vitamin C content.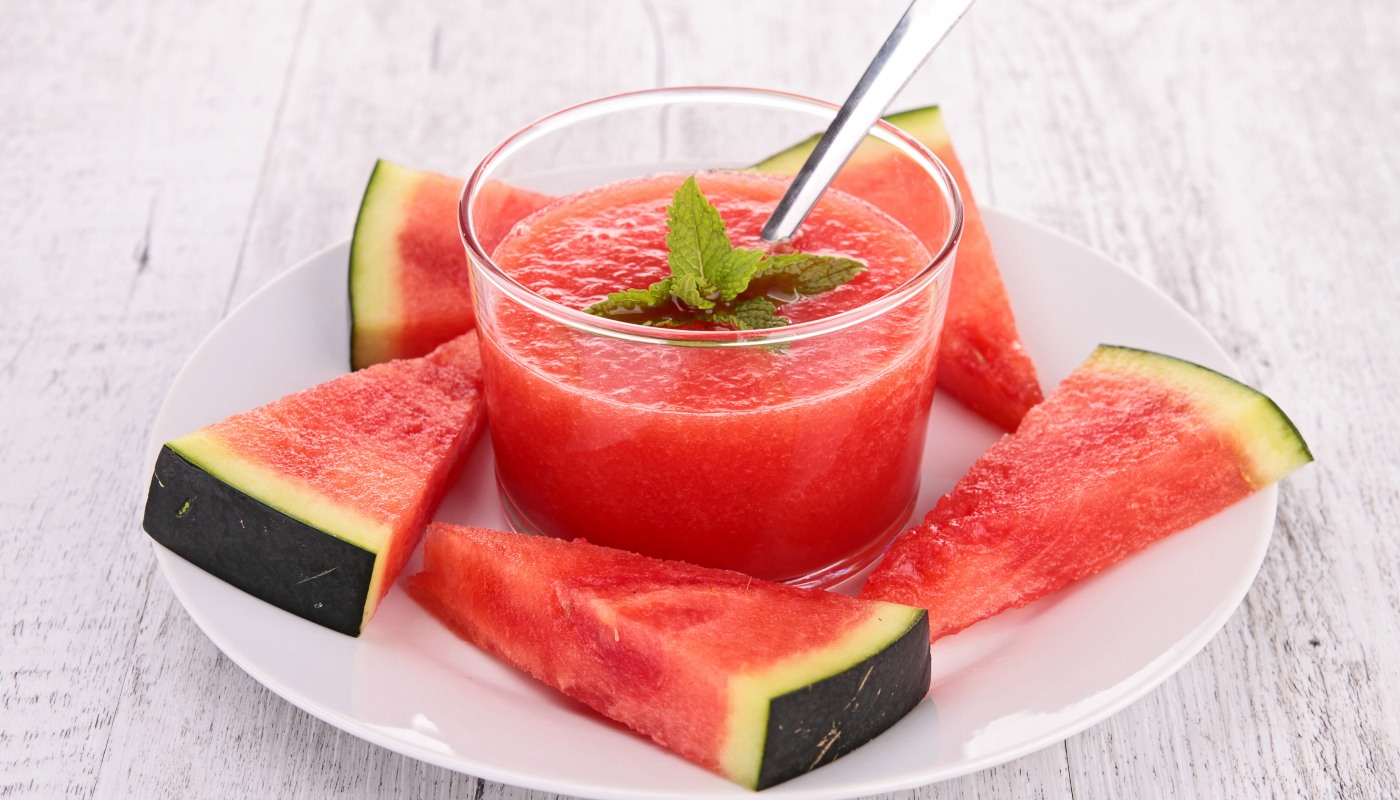 COLD SOUP, REFRESHING AND HYDRATING
WATERMELON GAZPACHO
Ingredients (4 people)
300 g tomatoes
4 basil leaves
2 cloves garlic, peeled and crushed
40 g chopped celery
½ chilli, seedless, chopped (optional)
400 g watermelon in cubes
60 g chopped red onion
80 g sliced cucumber
40 ml extra virgin olive oil
5 ml wine vinegar
20 g feta cheese (optional)
Freshly ground pepper
Himalayan salt
Method
Put all the ingredients in the blender, except the oil, vinegar, salt and pepper, and blend until a soft and creamy consistency is obtained
Add the olive oil and vinegar and blend again. Add salt and pepper to taste.
Pour the soup into cold bowls and decorate with some basil leaves. Crumble feta cheese on top if you like. Keep it in the fridge until served.
Cooking Time: 20 minutes
Nutritional value

Energy: 140 kcal
Carbohydrates: 6.65 g
Simple sugars: 5.84 g
Protein: 2.46 g
Fat: 11.5 g
of which saturates: 2.52 g
polyunsaturates: 1.2 g
monounsaturates: 7.5 g
Cholesterol: 5 mg
Fibre: 1.7 g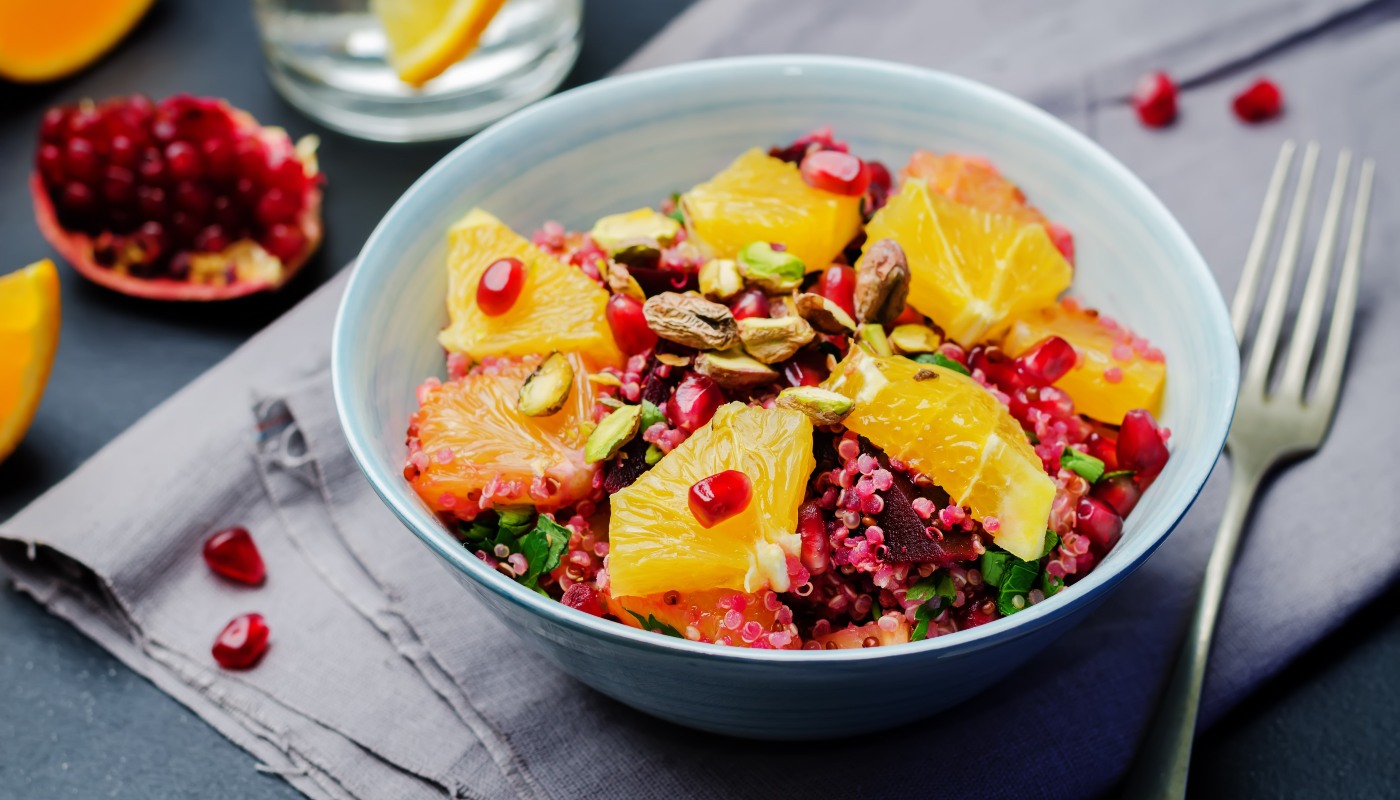 EYE-CATCHING SALAD RICH IN ANTIOXIDANTS
SUMMER SALAD WITH PISTACHIOS AND POMEGRANATE
Ingredients (2 people)
180g aubergine, cut into strips
200 g red peppers without seeds, cut into strips
200g courgettes, cut into strips
30 g pistachios
70 g rocket or watercress
10 g parsley
100 g couscous
200ml hot vegetable stock
150 g pomegranate
Himalayan salt
20 ml extra virgin olive oil
10 ml lemon juice
Method
Preheat the oven grill. Spread aubergine, peppers and courgette on both sides with ½ tablespoon of oil. Place under the grill for 15 minutes, or until the vegetables soften or brown, turning them during cooking. Roast in batches as necessary. Season them with salt, pour the other ½ teaspoon of oil over them and set aside.
Crush the pistachios with a mortar and set aside. Put the rocket in a salad bowl and season with salt, oil and lemon juice.
Put the couscous in a bowl and add the vegetable stock. Cover and allow to stand for 5 minutes, then add the pistachios and the pomegranate, keeping a little aside for decoration.
In the centre of each dish place a spoonful of couscous with pistachios and pomegranate, with salad leaves on one side and aubergines, peppers and roasted courgette on the other.
Preparation time: 10 minutes
Cooking time: 20/30 minutes
Nutritional value
Energy: 390 kcal
Carbohydrates: 51.3 g
Simple sugars: 14.04 g
Protein: 10.4 g
Fat: 15.85 g
of which saturates: 2.53 g
polyunsaturates: 2.26 g
monounsaturates: 9.72 g
Cholesterol: 0
Fibre: 6.03 g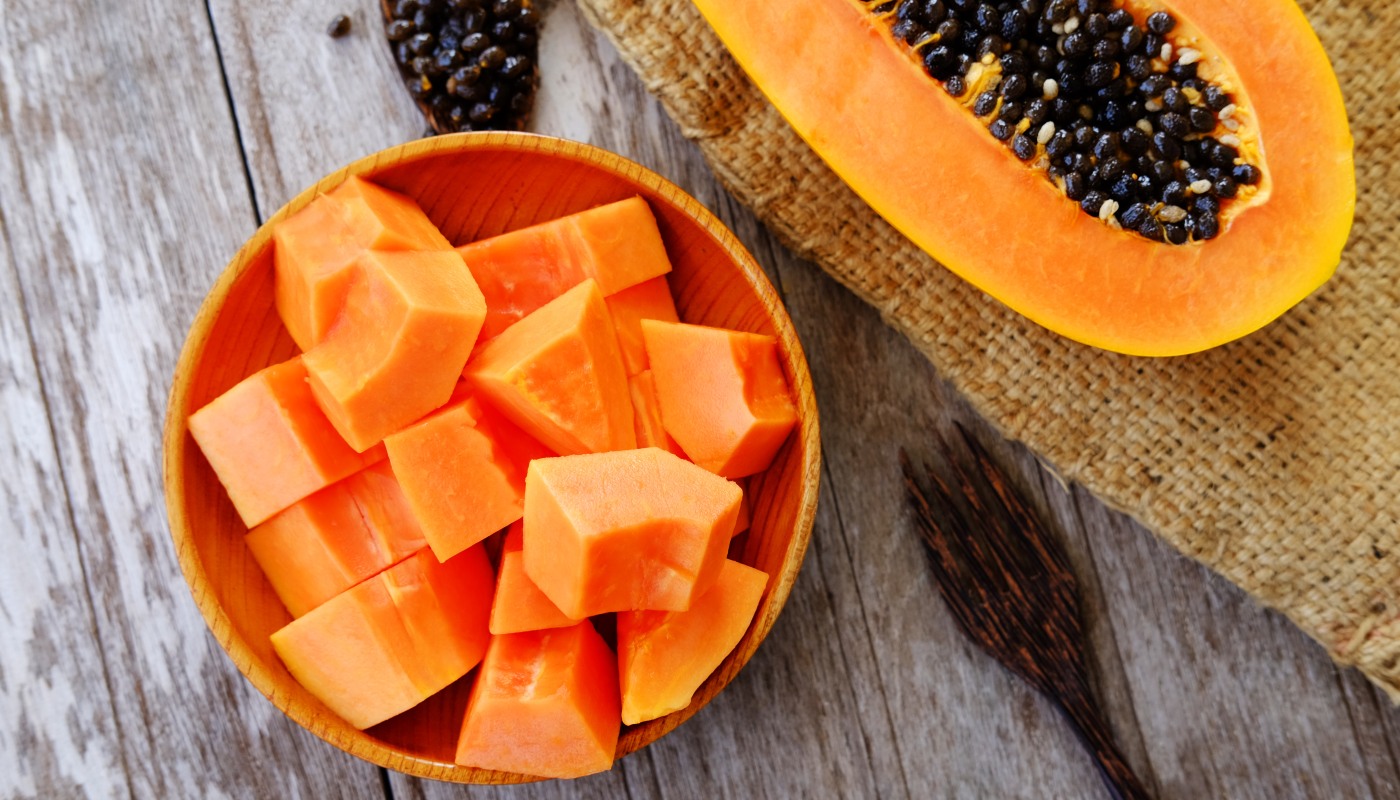 PAPAYA, RASPBERRY AND OATMEAL DESSERT

Ingredients (4 people)
45 g oat flakes
5 g unroasted sunflower seeds
20 g skinless toasted hazelnuts
125 g papaya
100 g raspberry
1 natural yoghurt
10 g agave syrup
2 g ground cinnamon
Method
Carefully wash the raspberries and dry them gently to prevent them from breaking. Keep half of them aside to decorate and crush the rest along with half of the syrup.
Blend oat flakes in the mincer or a food processor, along with cinnamon, sunflower seeds, and skinless toasted hazelnuts. They should be finely chopped to give a nice crunchy texture.
Keep the mixture to one side and then peel the papaya, removing the seeds with a spoon and cutting the flesh into small cubes. Use a large knife to cut the papaya in half. Next, cut each half into quarters and remove the skin from each piece.
Distribute a mixture of the flakes, seeds and hazelnuts on the bottom of 4 containers, such a short glass.
Add a layer of raspberry puree and then a layer of papaya cubes.
Finish the assembly with a generous layer of well whipped natural yogurt. Decorate with whole raspberries and sprinkle with the rest of the syrup.
Cooking time: 20-25 minutes
Nutritional value
Energy: 115 kcal
Carbohydrates: 14 g
Simple sugars: 7.4 g
Protein: 4.4 g
Fats: 4.2 g
of which saturates: 3.5 g
polyunsaturates: 0.87 g
monounsaturates: 2.64 g
Cholesterol: 0.35 mg
Fibre: 3.5 g