Homemade ice lollies, The most refreshing dessert
Appetising and easy to make, the top summer products


on today's menu
Share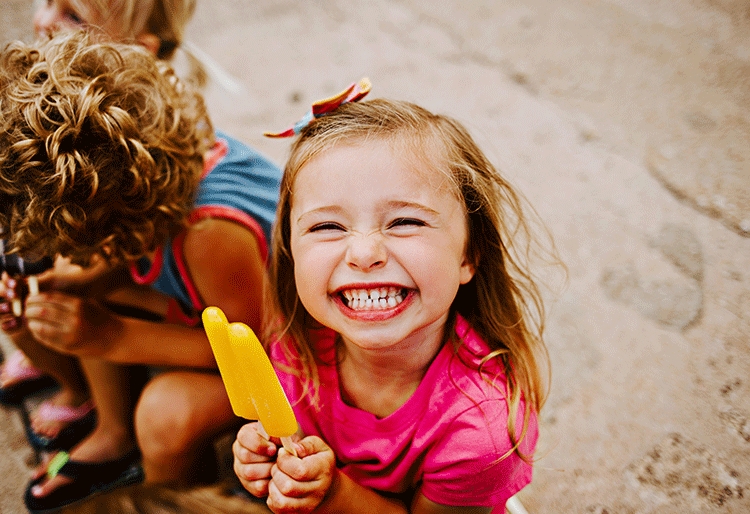 As healthy as they are tasty, fruit ice lollies are easy and quick to make at home and are very appetising on summer days. In addition, children love them, so it's a good way of introducing fruit into their diet.

They are desserts that can be eaten at any time and, as well as being refreshing, they hardly have any fat and are rich in vitamins and minerals. They can be made in many ways: creamy, with ice, with fruit, yoghurt...so it is a nutritious food and contains less calories than an ice cream.

Made of strawberry, banana, watermelon, orange, nectarine... They can be combined in lots of ways.


Benefits of homemade fruit ice lollies
Being made of natural fruit, ice lollies are very rich in essential nutrients, since the fruits they are made with are rich in vitamins, minerals and natural antioxidants. In addition, they are low in fat, so they can be included in any balanced or slimming diet.


Here we give you various recipes for fruit ice lollies.
You need:
- Ice lolly moulds
- Blender
- Freezer
Creamy mango and banana lollies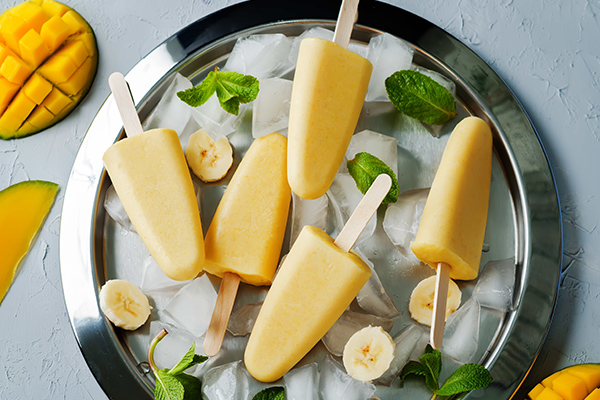 Ingredients (for 8 lollies)
- One or two bananas
- 300 grams of mango
- One or two Greek yoghurts (vegan option: vegetable yoghurts)
- Sugar to taste (it can be substituted for natural sweeteners)
Method
1. Slice the banana, add the yoghurt and blend in the blender.

2. Cutting the mango, add it to the banana and yoghurt mix and blend again.

3. Once the mixture is ready, pour it into lolly moulds. You need to bear in mind that, if you use moulds with lids, you shouldn't fill them to the top, respecting the instructions on the packaging, so that the mixture doesn't spill out once the lid is on.
4. When the moulds are full, place them in the freezer and wait for approximately 4 hours.
Nectarine, banana and green tea lollies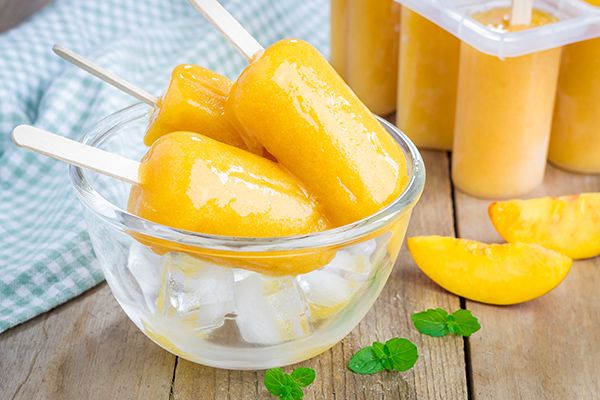 Ingredients (for 6 lollies)
- 6 nectarines
- 1 ripe banana
- 20 grams of lime juice
- 100 millilitres of cold green tea
- 50 grams of sugar
Method
1. Wash the nectarines and chop them, without removing the skin. (Tip: leave some pieces of nectarine to one side to add at the end).

2. Mix the nectarines, banana and green tea and blend them until they make a 'fruit purée'.

3. Add the lime juice and sugar and blend again.

4. Pour the mix into ice lolly moulds. Pieces of nectarine can be added at the end once the mix has been shared between the moulds.

5. Put the moulds into the freezer and wait for at least 4 hours.
..... And they're ready!
Strawberry, kiwi and lime lollies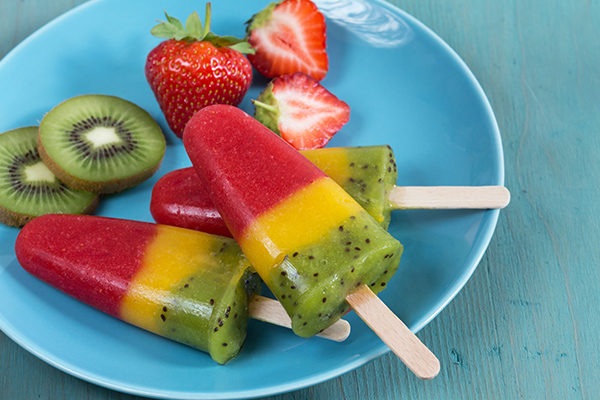 Ingredients
- A handful of strawberries
- 2 kiwis
- 1 lime
Elaboración
1. Wash the strawberries and peel the kiwis
2. Cut the strawberries in half, place them in the blender together with one kiwi and blend everything well.
3. Squeeze the lime and mix it with the 'fruit purée'.
4. Chop the other kiwi into small chunks.
5. Fill the ice lolly mould with the fruit purée and add the small chunks of kiwi.
6. Freeze for at least 4 hours.
Veggie ice lollies: watermelon, nectarine and melon
Tip: To remove the ice lolly easily from the mould, place it under the hot water tap for a few seconds.