Banana split: discover the recipe for the most popular American dessert
If there is one ice cream that is known worldwide by adults andchildren alike, it is the banana split. As well as beingdelicious, it is a very attractive dessert and very easy to prepare, as all youneed to make it is: a banana, ice cream, whipped cream, and your favourite toppings.

on today's menu
Share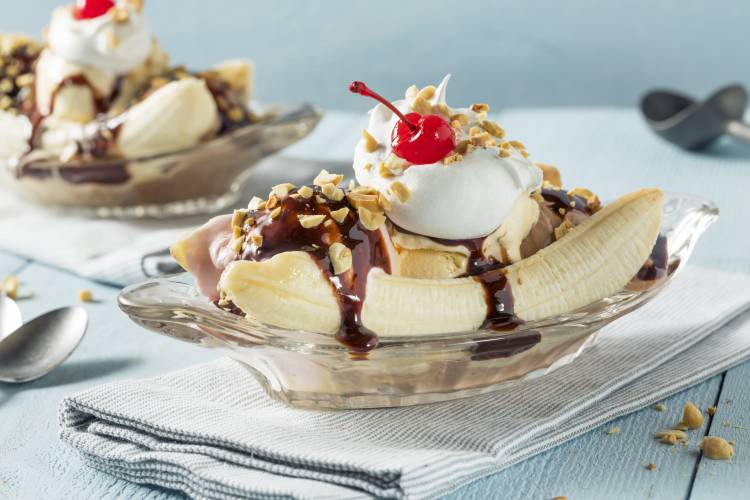 The original American recipe was served in a long bowl and consisted of a banana split lengthwise into two halves and three scoops of ice cream (strawberry, vanilla and chocolate); whipped cream; toppings of all kinds, such as coloured sprinkles or chocolate sprinkles, and a cherry on top for decoration. There are many versions of this ice cream and they are all delicious, and although the original recipe is delicious, at Consum we have a slightly different one. Do you dare to prepare the banana split ice cream with us?
Ingredients to prepare your banana split


Steps to follow when preparing your banana split
Cut the banana in two lengthwise so that it is in two equal halves.


Place the three scoops of ice cream along the length of the banana.


Top with the whipped cream.


Chop up the Oreo cookies and sprinkle them over the banana and ice cream.


Top with the cereal balls for a touch of colour.
Place a Kit Kat bar on top of the ice cream to decorate


Ingredients to prepare your homemade whipped cream


200 ml whipping cream with at least 35% fat (very cold)


75 g white sugar


Steps to follow for preparing your homemade whipped cream


Pour the cream into a bowl (remember that, to whip the cream, it has to be very cold).


Use a stick whisk and start beating on the lowest speed until it starts to take shape.


Once the cream is whipped, add the sugar and continue beating until it is well integrated into the cream and takes on a firm consistency.


Pour the cream into a piping bag and decorate to taste.


As mentioned above, this dessert invites you to get creative, so you can use your favourite toppings and ice cream flavours. If you fancy adding a little extra fun, Consum encourages you to make your own homemade ice cream. Ready to give it a go?