Mushrooms, the definitive guide
Autumn is synonymous with mushrooms. They emerge in the humid areas of forests and fields after the arrival of the cold and the first rains. Common mushroooms, boletus edulis, milk mushrooms, thistle mushrooms... delicacies that we can only find dehydrated, canned or frozen during the rest of the year, but that in the coming months we can enjoy in all their splendour.

fresh food
Share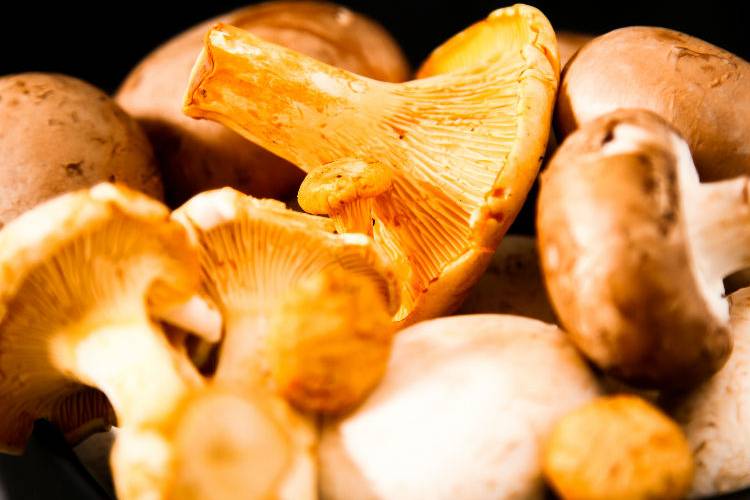 Mushrooms are one of the star products of the autumn. Spain is one of the richest countries in terms of mushroom variety, with some 2,000 species. Although it may seem a small figure if we compare it with the 100,000 fungi species that are known all over the world. The potency of their taste and the versatility they offer in the kitchen make them highly valued gastronomically. The wild mushroom season begins from October. Over the next few months, this well-known and appreciated product will be used to accompany stews, add some aroma to dishes or be placed on the grill while preserving all of its unique flavours.
The taste is in the variety
With only 25-35 calories per 100 grams and hardly any fat, mushrooms are a very healthy food. They also have a large amount of water and a high fibre content.
Nutritional information:
| | AVERAGE VALUES | By 100 g. | |
| --- | --- | --- | --- |
| | Energy value | 110 kJ/ 26 kcal | |
| | Fats | 0,3 g | |
| | of which saturated | 0,1 g | |
| | Carbohydrates | 4,0 g | |
| | of which sugars | 0,7 g | |
| | Dietary fibre | 2,5 g | |
| | Proteins | 1,8 g | |
| | Salt | 0,01 g | |
• Boletus edulis: One of the most popular mushrooms. It can adapt to different types of forests. They can grow at the foot of beeches, oaks or pines. Brown in colour, the cap (upper part of the mushroom) is viscous with moisture. It also grows in summer.
• Mushroom: Most of those we eat are cultivated, but they alsogrow wild in meadows, usually near organic matter such as manure. It is characterized by its rounded cap, slightlyflattened at the top. Its taste is quite smooth.
• Portobello mushroom: Unlike the common mushroom, it is brown in colour,in different shades depending on the time of year and the climatic conditions.Its texture is firm and smooth and it has a sweeter, fresher and more delicateflavour.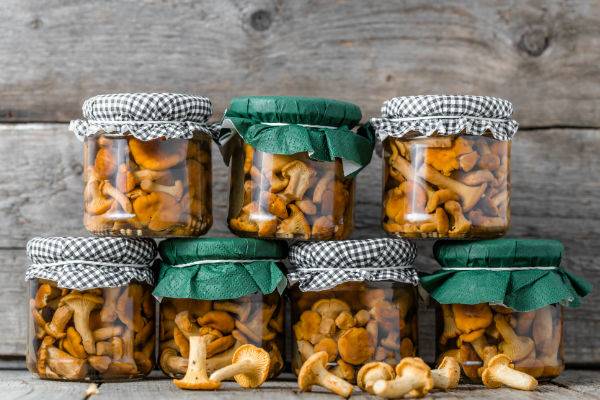 • Oyster mushroom: Its hat between 5 and20 cm in diameter. It has a greyish colour with a smooth and shiny surface. Itsflesh is firm, with a very pleasant taste.
• Thistle mushroom: white and delicate flesh. It is suitable for all types of preparations. It's also one of the tastiest. We can easily find it in the supermarket.
• Milk or rovelló: highly appreciated in the kitchen for the quality oftheir flesh. It tends to grow in humid coniferous areas, especially in pineforests. It has orange tones. Its flesh is hard, white and brittle. It offers afruity aroma and a soft taste.
• Exotic mushrooms: The best known is the shii-take, or black forest mushroom. Although of Asianorigin, this type of mushroom is also cultivated in Spain, specifically in theLa Rioja area . It has a variable colour between ochre and reddish, withwhitish flesh. It is known for its intense flavor.
And how do we store them?
In addition to consuming them fresh, we can also take advantage this wild mushroom season to preserve them to eat during the rest of the year. There are various techniques to do that. Depending on the type of mushroom and its size, one method or another might be used.
Dehydrated: They are cleaned, not rinsed, and spread over a paper with a gauze fabric. They are allowed to dry in a room with no humidity and constant temperature and once they have done so are stored in a glass jar. To use them, simply rehydrate with water.
In oil: once cleaned, scald for two minutes in boiling water and leave to cool. They are put into a sterilized, some salt is added, with aromatic herbs and olive oil, until they are fully covered.
Marinated: We prepare a marinade and cook the mushrooms in the juice for two to three minutes. It is a well-used conservation method for Robellones.
Frozen: They are cleaned without rinsing and cut into slices. Then scald for two minutes in boiling water before drying well and storing in the freezer. They last for up to six months and the most suitable varieties for freezing are boletus, common mushrooms and safron milk cap.
Try this simple recipe to cook seasonal mushrooms: