Potaje de vigilia: recipe for chickpea stew with cod
During Lent, the 40 days between Carnival and Easter, religious tradition dictates the 'prohibition' of eating meat, a rule that also extends to every Friday of the year. And as 'fasting' sharpens ingenuity, popular custom has left us with recipes in which fish is the protagonist. This is the case of the potaje de garbanzos con codalao y espinacas also known as potaje de vigilia or potaje de Cuaresma, which is a blessing rather than a penance.


TRIED AND TESTED
Share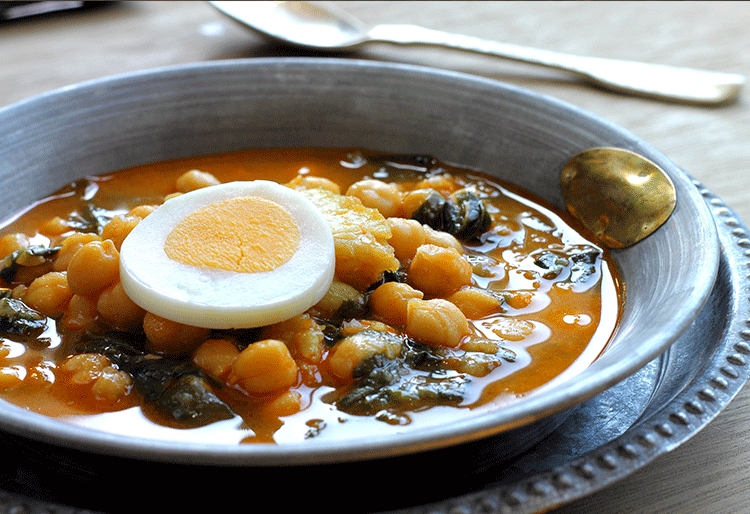 This stew is a spoon dish of basic ingredients, simple to prepare, that looks even better from one day to the next, it admits freezing and also very comforting in these dates in which the winter is still felt.

The importance of the recipe lies in the sofrito which is what distinguishes a sad mixture of things from the true taste of tradition.


Vigil stew recipe

Ingredients
- 500 g dried chickpeas (can also be cooked)
- 250 g of desalted cod (if you prefer salting you will have to desalinate it first)
- 250 g fresh spinach (can also be used frozen)
- 2 boiled eggs
- 1 onion
- 3 cloves of garlic
- 1 slice of toasted bread
- 1 teaspoon sweet paprika
- 1 bay leaf
- Olive oil
- Salt
Elaboration
1. If you use dried chickpeas, soak them the night before.
Cook the chickpeas in a casserole with the bay leaf until tender: about 15 minutes, in an express pot and between 1 hour and an hour and a half, in a traditional pot. When they're ready, reserve.

2. While the chickpeas are cooking, fry the chopped onion and a clove of whole garlic in a frying pan with two spoonfuls of oil and a little salt until golden. Then add the spoonful of paprika and reserve.

3. Blanch the spinach and cook them with plenty of water in a pot over medium-high heat with a little salt. It takes 1 or 2 minutes per bunch to remove their characteristic bitterness. When they are ready, add them to the frying pan and integrate everything.

4. Crumble the cod into bite-sized pieces and add it to the chickpea casserole next to the sofrito. Cook over low heat for 5 minutes and integrate all ingredients.

5. Toast the bread and prepare a crushed one crushing it in a mortar next to the other two cloves of garlic, olive oil and salt. When you have a thick paste add it to the casserole. And we've got our stew ready.

6. Rectify salt and check the broth. You can add water if you want it lighter or remove a few tablespoons of chickpeas and add them after crushing if you prefer thicker.

7. Serve hot by placing boiled eggs cut into quarters on top.
If chickpeas are not your thing you can replace them with another legume, try white beans or even lentils. If the spinach doesn't suit you well, you can also replace it with another green leaf (chard, turnip greens, cabbage...). And if cod is what you prefer to avoid, you can opt for another fish to your liking, for example, tuna or mackerel. But if the real problem is the stew itself, you can always combine the ingredients in other recipes and create your 'deconstructed' stew.
Other ideas
Cod with spinach in Catalan style
Bean salad with cod
Cod with spinach