Tasty and simple gluten-free recipes
When we think of gluten-free dishes, we often, mistakenly have the idea of restrictions, strange flavours, little variety, boring, etc., a perception which is far from the reality.

on today's menu
7 February 2019
Share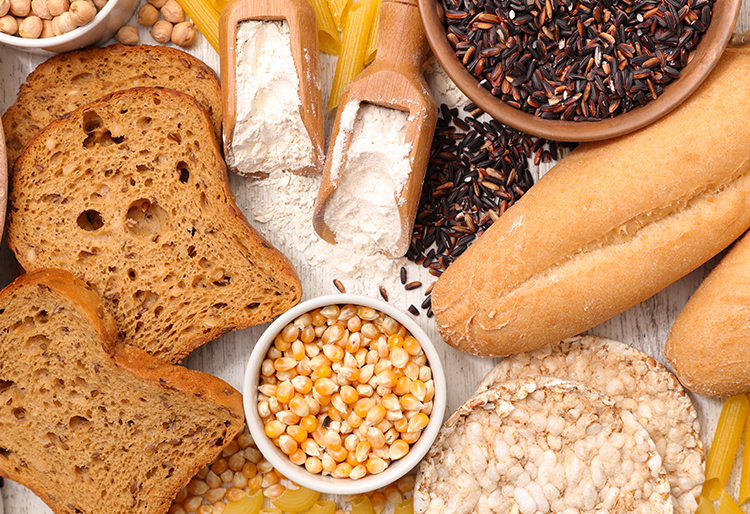 For people who are gluten-intolerant, the main stay of their diet is fresh produce, which in their basic state do not contain gluten. These are: meat, fish, eggs, milk, legumes, fruit and vegetables. For this reason, we can say that gluten-free diets are varied by nature. The fact is that gluten-free cooking makes people more aware of food choices and the reading and interpretation of labels. A job that, without a doubt, really involves getting into the kitchen and experimenting.
We are facing a type of gastronomy that involvesconstant trial and error as far as the handling of flours is concerned.
The great challenge is to opt for flours that, at first, might seem 'unusual' or infrequently used (flours made from rice, almonds, soya, tapioca, chickpea, buckwheat, alfalfa, quinoa, yucca or teff) as a base for breads, cakes, pastas or as thickeners. You need to be inventive when preparing sponges, cupcakes or biscuits by adding air to the mixture with energetic beating or incorporating egg whites whisked up form peaks as solution to the lack of gluten, which is responsible for the elasticity and sponginess.
The adventurousness required to find a way to boost a dough by adding lemon juice and bicarbonate, for example, can reward you with an indescribable pleasure when you achieve textures and flavours that are as good as recipes with wheat, barley, rye, oats (with some exceptions) spelt, triticale and their by-products.
In addition to these little tricks, there are a number of products on the market that help to make more mouldable and spongy doughs:
Agar agar: This is a vegetable gelatine of marine origin which is also known as 'vegetable gelatine'. In Eastern countries it has been used since ancient times, and in the middle of the 19th century it arrived in Europe. The great advantage of agar agar is its gelling power, but when used in a dough, you will first have to dissolve it in hot water.


Xanthan gum: this is the product most commonly used in commercial bread mixes and homemade bread recipes. It is a polysaccharide produced by a bacterium in sugar fermentation. With only a few grams of xanthan gum you can give elasticity and structure to breads and doughs.


Psyllium Husk: Psyllium is the seed of the Plantago plant, which originated in India. When you are working with dough, psyllium works very much like gluten. It absorbs water and forms a structure that traps the fermentation gases and provides a spongy and elastic structure to the crumb.
Experimentation and culinary imagination in gluten-free cooking has resulted in the transformation of such classic recipes as pizza or cannelloni into new experiences for all kinds of palates and safe delicacies for sufferers of coeliac disease. In short, you can go without gluten without having to forego even a crumb of the delights of enjoying a lunch, dinner or dessert in company.


PIZZA WITH ROCKET, TOMATO AND CHEESE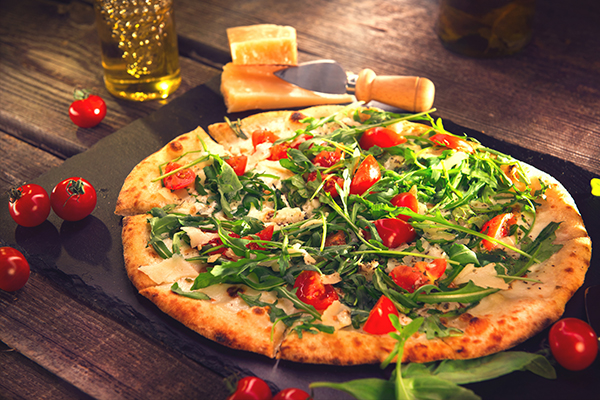 Ingredients (6 people)
350 ml water
20 ml olive oil
350 g rice flour
350 g tomato sauce
300 g mozzarella
200 g cherry tomatoes
250 g corn flour
125 g rocket
25 g yeast
5 g sugar
Salt
Preparation:
Mix the flours and salt in a bowl. Heat the water to lukewarm and dissolve the yeast and sugar into it. Incorporate it to the centre of the flour mixture. Add the oil and knead everything well by hand. Form a ball, cover and let it rest for about 1 hour and a half, until it doubles in volume.
After this time, grease a mould with oil and spread the dough evenly. Preheat the oven to 200 ºC.
Spread the tomato sauce on the dough. Evenly distribute the mozzarella over the sauce. Bake for 15-20 minutes. Once the mozzarella has melted, add the cherry tomatoes and rocket.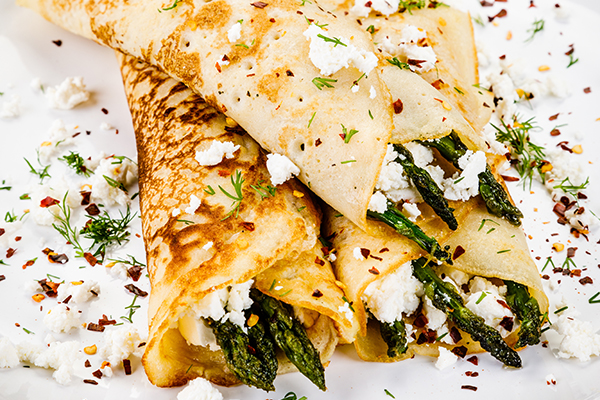 Ingredients (4 people)
For 8 crepes
170 ml semi-skimmed milk
70 g gluten-free flour
10 g butter (for frying)
2 eggs
Salt
For the filling
120 g carrot
120 g courgette
100 g leek
80 g Parmesan cheese
80 g asparagus
40 g celery
40 ml olive oil
For the bechamel sauce
200 ml semi-skimmed milk
20 ml olive oil
20 g corn starch
1 g nutmeg
Salt
Preparation:
Place the eggs with the salt in a bowl, beat and add the sifted flour while stirring continuously. Pour the milk in gradually and continue stirring. Let it stand 30 minutes.
In the meantime, wash the vegetables well and cut them into julienne. Spread the oil in a frying pan and cook the leek, celery, carrots, courgette and asparagus. Set aside when they are crunchy,.
Heat a small frying pan and add the butter, once dissolved, add a tablespoon of the pancake mixture, as soon as the edges start to colour, flip it over. Set the pancakes aside as you cook them.
Prepare the bechamel sauce by mixing the cold milk with the corn starch. Once the starch is dissolved, heat gently while stirring constantly. When it begins to thicken, remove from the heat and add the oil, nutmeg and salt.
Fill the pancakes with the vegetables, wrap them in the form of rolls. Place on an oven tray and pour the bechamel sauce over them and sprinkle the cheese on top.
Gratin in the oven at 180 ºC, for 10 minutes.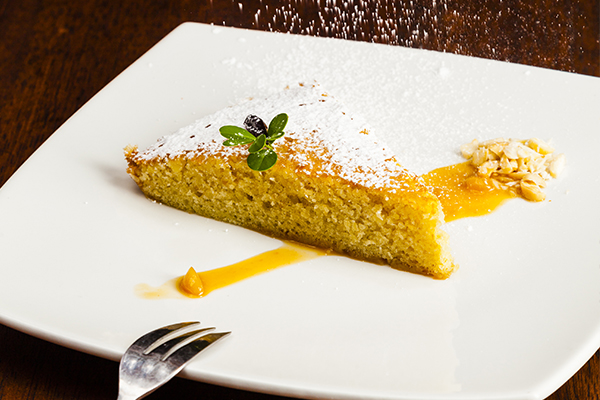 Ingredients (for 8 persons)
250 g raw ground almonds
150 g sugar
10 g icing sugar to sprinkle
10 g unsalted butter for spreading the 22 cm diameter mould
5 g grated peel of half a lemon
3 g cinnamon
5 large eggs
Preparation:
Heat the oven to 180 ºC.
In a bowl, mix the sugar, ground almonds, cinnamon and grated lemon rind. Use a fork to mix everything thoroughly.
Add the eggs and with a spoon or a rubber spatula mix everything thoroughly.
Grease the mould with butter. Pour the mixture into the mould and bake in the oven at 170º C for 50 minutes until the surface is golden brown.
When the cake is evenly baked, take it out of the oven and let it cool before removing it from the mould. When it is cold, remove it from the mould and sprinkle the icing sugar on top.