Sea bass Ceviche
The sea bass with denomination 'of our waters' is a white fish, living in the Mediterranean Sea, which is known for its robust, elongated shape and a silvery complexion. It is also ideal for a number of cooking methods, as Sea Bass Ceviche.

fresh food
Share
Italians call it the Bocca d'oro because of the golden colour inside its gills and mouth, two features that make it unmistakable.
Its meat is lean and rich in high biological value proteins, vitamins and minerals and contains Omega 3 and Omega 6 fatty acids. It also has a low salt content and is suitable for people with high cholesterol. It provides around 75-90 Kcal per 100 grams.
This type of fish has reappeared on the market as a result of aquaculture, although it can also be found in the open sea, both in the Mediterranean and in the Atlantic.
With its unique mild flavour, it is ideal for all kinds of diets. it is also ideal for a number of cooking methods: steaming, baking, grilling, stewing and even for main ingredient in a delicious ceviche.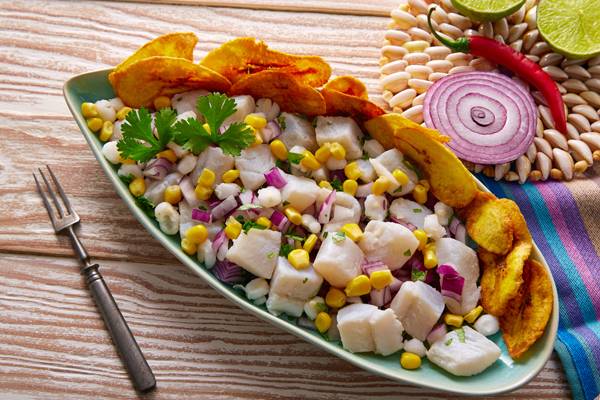 Sea bass ceviche
Ingredients

(2 people)
• 600 g of clean sea bass and with the bones removed
• 2 red onions
• 4 cloves of garlic
• 1 chilli
• 1 cup of lemon juice
• ¼ cup of white vinegar
• 2 tablespoons chopped fresh coriander
• Add salt and pepper to taste
How to prepare the Ceviche
• Cut the cleaned sea bass into medium pieces and place them in a tall bowl with the lemon juice, vinegar, salt and pepper and stir well. Cover the bowl and place it in the fridge for 30 minutes, stirring it every 10 minutes with a wooden spoon.
• Chop the garlic and the chilli pepper, cut the onions julienne and wash them with a little water.
• When the 30 minutes have passed, take the bowl out of the fridge, add the garlic, the chilli pepper, the chopped coriander and finally the onions. Mix everything well.
• If you want a stronger flavour, let it soak for a couple of hours. But if you can not wait it can be eaten right away.