Citrus types: get the most out of your menus
Learn about the different types of citrus and discover how you can make your menu by adding acidic flavours of oranges, lemons and grapefruits.

on today's menu
28 January 2020
Share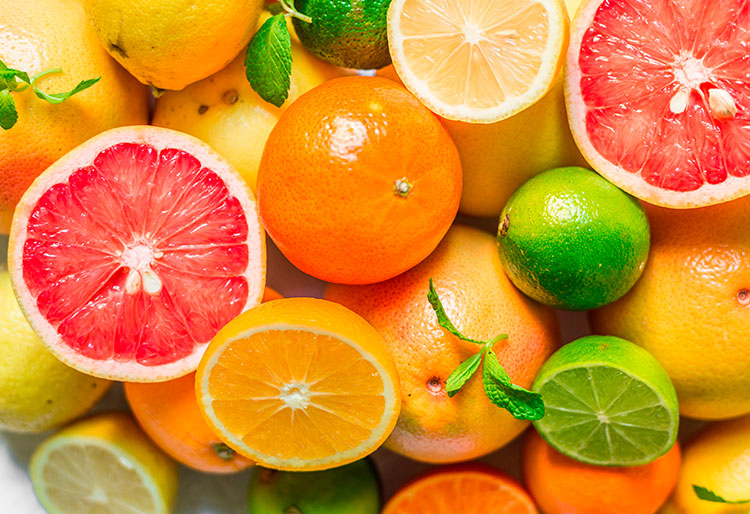 The consumption of citrus brings many benefits to the body, but we almost always consume them in raw form. Try to go beyond oranges with cinnamon or lemon sorbet and introduce citrus fruit in your menus.
Main types of citrus and their uses in the kitchen
Oranges, tangerines, lemons and grapefruits are the great kings of this season. Fish, meat and seafood surrender their culinary and nutritional benefits. Loaded with vitamins and minerals, low in calories, rich in water and fibre, they help prevent oxidation and facilitate the absorption of other nutrients, such as iron. They preserve cardiovascular health through different biological mechanisms, thanks to the combination of flavonoids (naringenin, hesperidin or limonene), vitamin C and folates.
The skin and its juice fill the dishes with sensations, offering varied and delicious flavour combinations. They enhance flavours by simply adding them to vegetables, either inside dishes or main dishes; reinforcing and adding a touch of acidity in some cases that is very flattering. For example, with zucchini, mushrooms or green beans make a perfect combination.
They are also great in vinaigrettes, sauces and marinades. Lime and lemon stimulate the taste buds of any diner, not forgetting that they can be added as luxury ingredients in drinks and some desserts. Green or yellow, of all possible sizes and a unique smell, cut into small pieces, using only its skin or slice it to seduce the palate in a single bite.
Citrus fruits are one of those culinary treasures that have a lot to give. They are scented and refreshing, to take advantage of them better, there is nothing better than crushing them whole, taking advantage of their pulp.
Citrus on the menu
- Lemon: it is the most acidic citrus and the most used in the kitchen. Many times, it is used to replace oil or vinegar in salad dressings. It also helps enhance the taste of fish dishes. Also, its juice prevents oxidation of other foods.
- Orange and tangerine: in addition to using them for juices for breakfast or snacks, these citrus fruits have a lot to give in the kitchen. They are ideal for adding to salads, as one more ingredient, serving them in in a mix with other fruits or with chocolate, to prepare dessert skewers and a thousand more combinations.
- Grapefruit: similar to orange or tangerine, but with a stronger flavour, it is widely used for in sauces or vinaigrettes, as well as for dressing fish and in the preparation of desserts.
- And the peel? Nothing is thrown away here, we can use citrus peels, especially orange and lemon, to flavour desserts. They are also often used to flavour any type of drink.
Green beans with grapefruit and nuts
Ingredients (4 people)
- 450g round green beans
- 150g pink grapefruit
- 40g extra virgin olive oil
- 10g hazelnuts
- 10g of fresh herbs (dill, parsley, chives ...)
- 5g pine nuts
- 1g ground black pepper
- 1 french onion
- 3 garlic cloves
- 3 walnuts
- Salt
Method
1. Peel the garlic cloves and the onion. Place in a pan with plenty of water and a pinch of salt, when they are tender, after about 10 minutes, drain well keeping the water.
2. Put in a mortar or grinder together with nuts, a tablespoon of olive oil, herbs and black pepper. Crush until you get a paste.
3. Separately, cook the green beans previously washed in the reserved water, leaving them al dente, just a couple of minutes.
4. Drain and place in a bowl. Peel the grapefruit well by removing all the white parts, trying not to lose too much juice. Chop and add the beans.
5. Lightly toast the hazelnuts and pine nuts in a pan without oil. Add them to the beans. Add the leftover pasta, the rest of the olive oil and season to taste. Mix everything well.
Turkey sirloin in orange and mustard sauce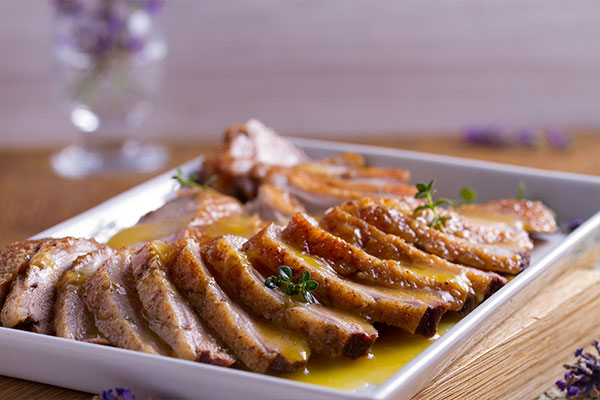 Ingredients (2 people)
- 240g turkey tenderloin
- 150g orange juice
- 120 red onion
- 40g extra virgin olive oil
- 30g of bitter orange marmalade or 1 small crushed peeled orange
- 15g of Dijon mustard
- 10g brown sugar
- 5g dried or fresh thyme
- 240ml of homemade chicken or vegetable broth
- 60ml of red wine
- Ground black pepper
- Salt
Method
1. Chop the turkey tenderloin into bite size pieces. Heat a tablespoon of oil in a large skillet and brown the turkey for a few minutes. Lightly season, remove it and let it sit. Chop the red onion and white bean an add to the same pan.
2. Add the juice and zest of the orange, the bitter orange marmalade, the mustard and the brown sugar.
3. Cook for 5-8 minutes over medium heat. Return the turkey to the pan, turn up the heat and water with the wine.
4. Add the stock, lower the temperature and leave it covered for 20-30 minutes, watching the liquid level.
5. The meat should be tender and the sauce thick. If necessary, uncover it for the last minutes.
6. Season and add a little thyme at the end of cooking.
Tangerine and ginger custard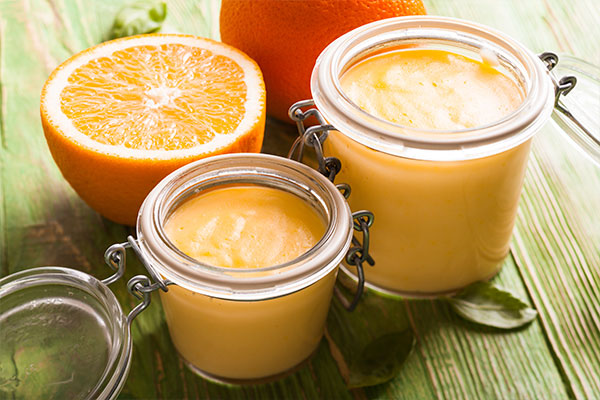 Ingredients (2 persones)
- 600 ml of skimmed milk
- 200 ml of mandarin juice
- 24g corn-starch
- 20g sugar
- 20g ginger
- 4 egg yolks
- grated skin of 2 tangerines
Method:
1. Wash the tangerines well, grate the skin and then make the juice. Peel the ginger and put the three elements in a saucepan, juice, peel and ginger. Add the milk, set aside for a bit little to let the corn-starch dissolve then put the saucepan to heat at medium-high temperature.
2. When the milk starts to boil, remove it from the heat, cover it and leave for a couple of minutes to infuse the ginger, then remove it.
3. Pour the egg yolks into a bowl and add the sugar, mix until combined, without making it foam.
4. Add the starch dissolved in milk to the yolks and mix well. Pour the egg yolk preparation into the milk ladle.
5. Cook over low heat while stirring with the balloon whisk or with the wooden spoon (it should not boil at any time), until the mixture thickens a little, when it cools it will thicken more.
6. Pour the custard into dessert cups and let it cool to room temperature. Once cold, you can keep them in the refrigerator covered with cling film.