Topic of the month
Eating without cooking: benefits, advice and recipes
Eating without cooking has many advantages. If you don't have time or want to eat healthily, we give you advice and some easy recipes. Don't miss out on them!
TOPIC OF THE MONTH
Share
With the arrival of the summer season and those longed for holidays, the last thing we want to do is to spend hours in the kitchen. Below, we give you a number of ideas and formats for recipes so that you can prepare some fresh dishes to ease the effects of the hot weather.
The advantage of this type of preparation is that these are also the perfect recipes for serving straight away, or for preparing in advance keeping them chilled in the fridge, and there are choices for all tastes. By making them, we can enjoy more free time during this time of the year.
Practical advice for eating without cooking
Tartare: we define tartare as any dish, whether meat, fish or vegetables, that is served raw and very finely chopped if it is meat, or cubed if it is a tartare of fish or vegetables.
A meat tartare is usually accompanied by an egg yolk, such as in a steak tartare, and with condiments such as cucumber, capers, onion, mustard…
If choosing a fish tartare, it is usually made from salmon or tuna, and we recommend freezing the pieces to be eaten for at least 24/48 hours prior to eating. Another option is to use smoked or boiled seafood such as octopus, lobster or chopped prawns, all seasoned with mayonnaise, soy sauce, vinegar, lemon juice and some crunchy vegetables. If you make it with vegetables, boiled beetroot, tomato, mushrooms, seaweed and courgette are the most used, along with fruit, such as avocado, apple or mango, to provide a touch of freshness.
Learn how to make steak tartare
Ceviche: is a traditional dish from Peru. It consists of fish or seafood marinated in citrus juice, such as lemon, lime or orange, and accompanied by vegetables such as red onion, sweet potato, maize, garlic and coriander. It is usually made with white fish, which is also frozen beforehand to prevent anisakis, but seafood such as prawns and langoustines can also be used.

This dish is served well chilled and is ideal for hot days and you won't have to give up the benefits of fish.
How to make a sea bass ceviche: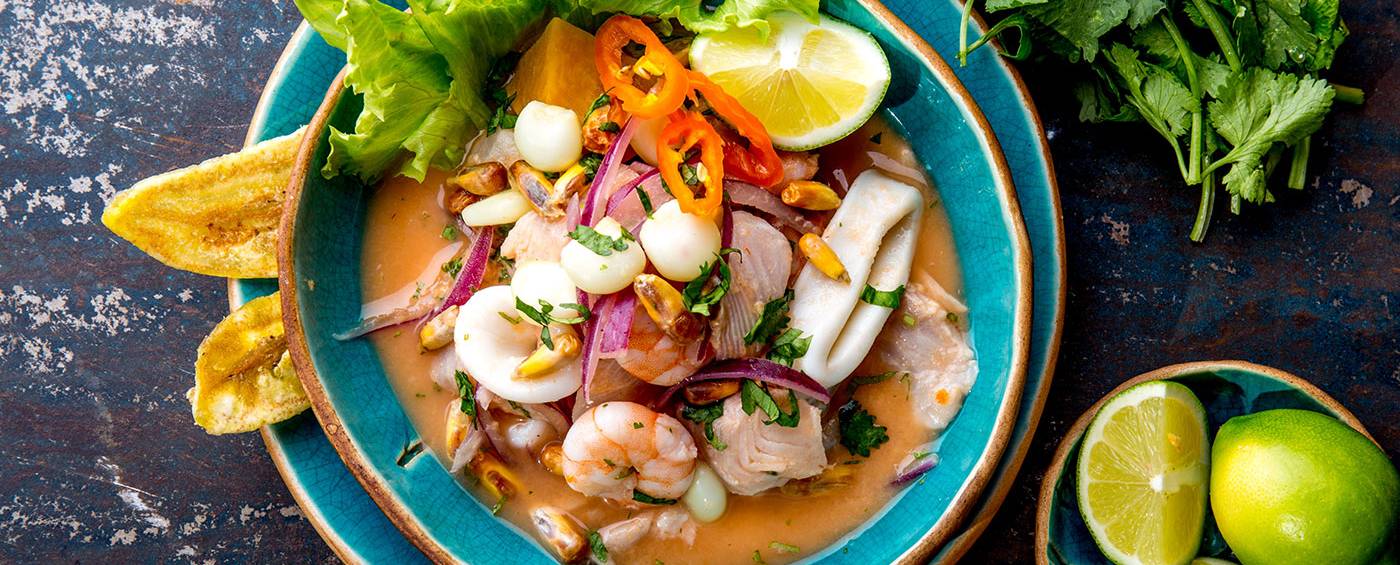 Carpaccio: a traditional Italian dish that is served as an aperitif, but which is becoming increasingly established in our cuisine.

It consists of very fine slices of raw meat or fish, seasoned with olive oil, salt, lemon juice and other condiments. It is usually accompanied by Parmesan shavings.
Although it was originally prepared with ox meat, today this technique has even been used for dishes such as mushroom or courgette carpaccio, and even using fruit, such as pineapple, watermelon or mango. However, if you opt for fish, salmon, hake and other salted fish are really good, as are octopus and scallops. In short, anything that you can cut into fine slices is ideal for making a carpaccio.
Conserves and salted foods: made from fish or vegetables are an excellent choice to combine with salads or toasted open sandwiches. Fish conserves are also a source of protein.
Create a complete dish by combining conserved vegetables, as they are excellent for providing protein. The variety of recipes that can be made with them is infinite, as you can combine so many things with the vegetables, such as fish or salted foods.
Combine a tin of lentils with piquillo peppers, tuna in extra virgin olive oil, rocket and hard-boiled egg. A dish to be served cold and which covers all your nutritional requirements.
Gazpacho: when we talk about gazpacho, we mean chilled soup made with blended raw vegetables, mainly tomato, onion, green pepper, cucumber, garlic and vinegar, seasoned with extra virgin olive oil. But, as happens to all the traditional recipes in our cuisine, each family has a different recipe or tip that makes it different from the rest. Apart from the traditional Andalusian gazpacho, today we can create different versions of this recipe by mixing other types of vegetables and even fruit, for example, a gazpacho made from mango, watermelon or beetroot.
Salads: in this section, we could also include the classic cocktails and the new poke bowls. You simply need to ensure that you have the different types of food in the right proportions, always adding vegetables, carbohydrates, healthy fats and protein.
Find out how to make an authentic poke bowl here