Noodles, discover this oriental recipe
Noodles are a typical dish of Chinese food very fashionable today. We tell you what they are and how to prepare a tasty recipe.


on today's menu
Share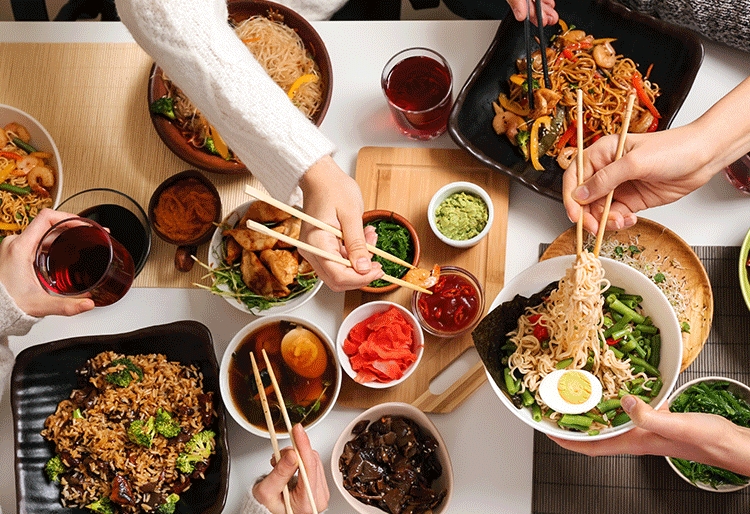 Noodles are the Asian version of spaghetti, although it seems that they are much older than their Italian counterpart, since the people of Asia are proud to have been the first to invent this pasta with an elongated shape. Remains of this type of noodle have been found dating back 4,000 years.

Noodles are an important part of most regional cuisines within this country and other Southeast Asian nations. They have been, and continue to be, a staple of the Chinese population.
They have also entered the kitchens of neighbouring East Asian countries such as Korea and Japan, as well as Vietnam, the Philippines, Thailand and Cambodia. Currently, their popularity has moved outside the continent and they are increasingly popular worldwide.


Types of noodles
There are different types of noodles depending on the area where they are made, their ingredients, their thickness or the way of preparing them. Here are a few of the best-known:

• Rice noodles: made with rice flour and water. They are semi-transparent, long and, in some cases, flat. They don't contain gluten, so they are suitable for coeliacs. They are usually used to make soups in Chinese and Thai cuisines.

• Egg noodles: made from wheat and egg flour, they are one of the most popular varieties in Japan and China. They are very similar to the spaghetti we eat in Europe. They are usually served cold, often in salads. We can find them dry or fresh.

• Udon: made with wheat flour and characterised by their thickness. They are long and tender. They were invented in Japan in the sixth century. Normally, they are served in broth, although they are also used for cold dishes.

•Soba: these are the ones which are usually used in the recipe of the popular "yakisoba". Made with buckwheat flour and wheat flour. They are cheap and very popular as fast food in Japan.

• Ramen: these are the best-known Japanese noodles. Ramen noodles are made with wheat flour, mineral water with sodium carbonate, salt and kansui (an alkaline solution used to give a more elastic texture to this type of noodles). These are the ones which are used in the dish of the same name which has become one of the reference points of Japanese cuisine.

Noodle recipes
Although we associate Chinese noodles with fast food, the truth is that noodles are a very versatile food with a high nutritional value, since they have a high carbohydrate content, low salt content and do not contain fats, provided they are eaten like pasta and not as precooked food. They can be used to prepare numerous and varied recipes.

Noodles with vegetables and prawns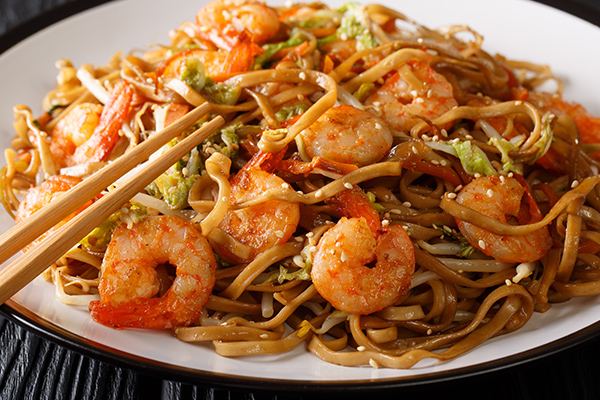 Ingredientes
- 250 g of noodles
- 15-25 peeled prawns (fresh or frozen)
- Mixed vegetables (the ones we have to hand. They can be courgette, carrot, aubergine, onion, green pepper...)
- Fresh or canned mushrooms (optional)
- 300 ml chicken broth
- Soy sauce to taste
- Sesame seeds
- Olive oil
Preparation
1. In a deep pan, wok type, heat the oil, add the vegetables in order of hardness and sauté them for a few minutes.
2. Wash and dry the prawns and the lobsters and add salt.
3.Throw the chicken stock and soybeans in the pan until boiling.
4. When it starts to boil, add the noodles to the pan and allow them to cook for 5 to 7 minutes.
5. Before serving, sprinkle on sesame seeds and it is ready to eat.


Noodles with chiken and vegetables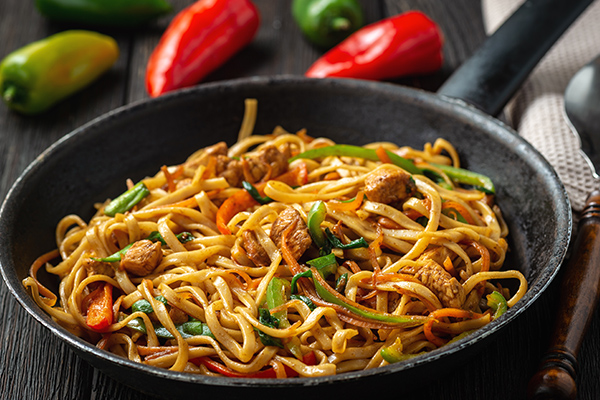 Ingredientes
- 1 pack of noodles
- 100 g of natural bean sprouts
- 1 small carrot
- 1 bunch of tender green onion stems
- 1/2 Italian green pepper
- 1/4 courgette
- 1 egg
- 1 chicken breast fillet (approximately 200 g)
- 2 tablespoons soy sauce
- 2 tablespoons extra virgin olive oil
- 1 glass of water (300 ml)
Preparation
1. Heat olive oil in a wok or deep pan and add all the vegetables cut into very thin strips, except for bean sprouts. Stir fry for a minute and a half.
2. Add the bean sprouts and remove them when they turn golden brown. Set aside.
3. In the same pan, fry the chicken cut into thin strips and set aside.
4. Add the egg and remove when it reaches a texture similar to that of a pancake. Set aside with the chicken and vegetables.
5. Put water in the wok and add the noodles when it starts to boil. Separate the noodles with a fork until they are loose.
6. Combine the noodles with the rest of the ingredients, and they're ready to serve.

Noodles with smoked salmon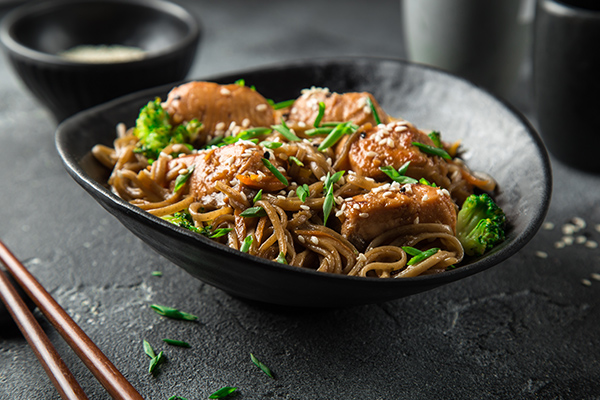 Ingredients
- 200-250 g of noodles
- 200 g of smoked salmon
- 60 g of soy sauce
- sesame oil
- extra virgin olive oil
- freshly squeezed lemon juice
- 2 spoonfuls wasabi
- 1 spoonful roasted black sesame
Preparation
1. Cook the noodles in water, following the manufacturer's instructions.
2. Cut the smoked salmon into large pieces.
3. Meanwhile, prepare the dressing in a bowl. Mix soy sauce, sesame oil, olive oil, lemon juice and wasabi.
4. Serve the noodles with salmon and dressing sauce.