Prawn brochettes With pineapple and onion
Ingredients for 4 people:

16 prawn or jumbo prawn tails. MARINADE: 20 ml soy sauce - 50 ml mild olive oil - 2 grated garlic cloves - 10 g brown sugar - Pinch of grated ginger (optional) - Freshly ground pepper. SAUCE: 1 chopped onion - 200 g chopped pineapple or in syrup - Freshly ground pepper - 250 ml pineapple juice. SERVE WITH: 2 chopped spring onions - 300 g chopped pineapple - 100 g finely chopped red cabbage - Salt and olive oil



Starters
23 November 2018
Share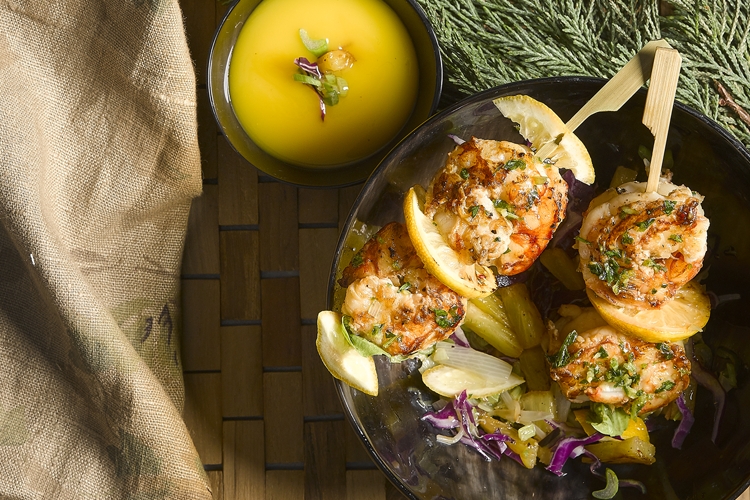 PREPARATION
A bit of help to prepare the marinade in a bowl is never amiss. The helpers will only have to mix all the ingredients well and leave the prawns to macerate for 20 minutes. It is important not to leave them for too long. Then, you can mount the brochettes, sticking the cocktail sticks through the prawns.
1. To prepare the sauce, we cook the chopped onion in a small pan with the pineapple and pineapple juice for 15 minutes on medium heat. We mash it up well and season with salt and pepper to taste.
2. Then we sauté the resulting mix in oil with the red cabbage.
3. To finish, we place the brochettes in a hot frying pan for a couple of minutes, sprinkling with the marinade juice at the same time.
4. We serve them with the sauce and sautéed vegetables.