Roast turkey with vegetables
Ingredients for 8/12 people:

1 turkey - 1 splash of brandy - 1 L apple juice
100 g lard. FOR THE BRINE: 100 g brown sugar for every litre of water - 50 g purest possible salt without iodine - Mixed dry aromatic herbs (3 bay leaves, thyme, crushed garlic, black pepper, clove, 2 chopped lemons and rosemary). SERVE WITH: 1 kg small potatoes - 600 g onion - 1 broccoli - 1 kg peeled and chopped pumpkin - 100 g butter - Freshly ground salt and pepper

Meat dishes
20 November 2018
Share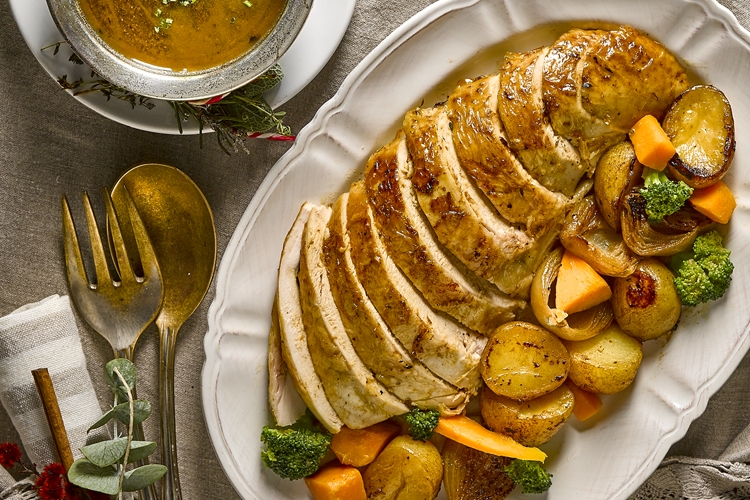 PREPARATION
This is a hardy task! You will need some good arms, someone to help you submerge the turkey in 6 or 8 litres of brine water. Previously, we put half the water to boil with all the brine ingredients until the salt and sugar has dissolved. We let it cool down a bit and then add the rest of the water, which must be very cold. When the brine is at room temperature we can put the turkey in it and leave it submerged for 12 hours.
1. After taking it out, we rinse it and dry it well, then we smear it with lard and put it in an oven dish with a grid. Then, we spray with apple juice and brandy, and roast at 170º (40 minutes per kilo of turkey). We spoon cooking juice over it every 30 minutes.
2. To check if it is done, we prick the side and check that the juice that comes out contains no blood.
3. During the last 40 minutes, we add the seasoned potatoes, onions and pumpkin, with a few knobs of butter. 20 minutes before the time is up, we add the broccoli. We leave it to stand for 20 minutes before carving and we serve with the vegetables.