Samfaina: traditional recipe
Learn how to cook the samfaina, a traditional recipe from Catalonian and Valencian gastronomy. A delicious stew that is similar to ratatouille, but which is made with aubergine and courgette.

on today's menu
Share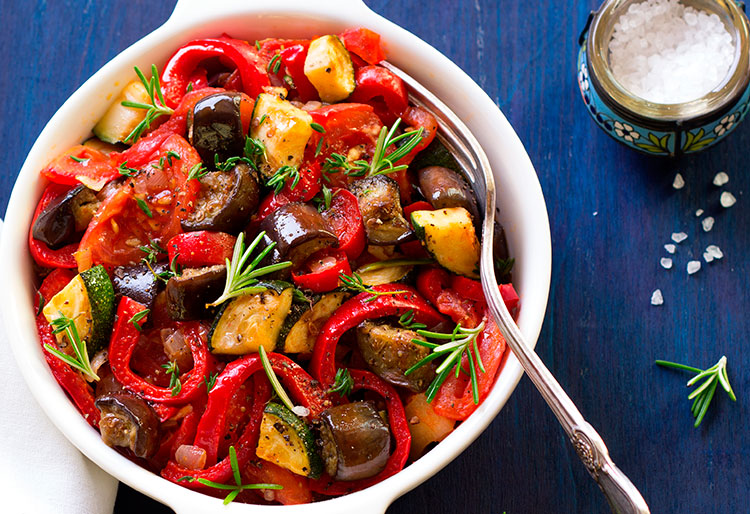 The samfaina is a traditional vegetable recipe whose main ingredients are aubergine and courgette fried with tomato, onion, chopped garlic and olive oil. As all recipes, this one is open to variation, depending on the geographical area in which you find yourself. For example, it may have small pieces of green and/or red pepper added to it, as well as aromatic herbs such as rosemary and thyme.
In Catalonia, for example, this recipe is used as an accompaniment for meat (pork ribs, rabbit, chicken…) or for fish such as tuna or cod which normally finish cooking in the pot, mixed with the samfaina. However, cocas (pastries) made with a base of samfaina are traditional in the Valencian Community.
Recipe for samfaina
Ingredients:
- Courgette
- Tomato
- Onion
- garlic
- Pepper (optional)
- Olive oil
- Salt
- Spices of your choice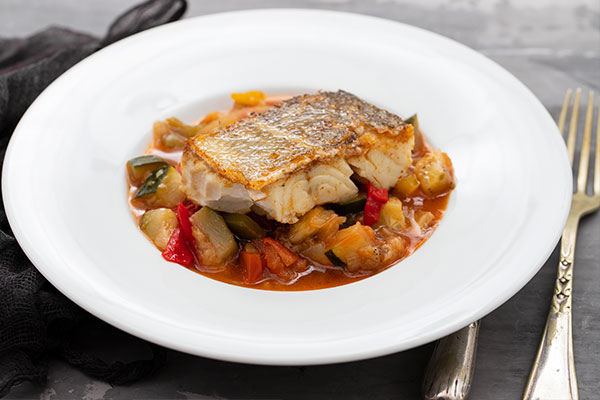 Instructions:
1. Firstly, before starting to cook, prepare the vegetables. Peel and chop the onion and garlic. Wash the aubergine, courgette and tomato well and chop into small cubes. Use the tomato as you prefer it, in chunks, grated or tinned.
2. Then, put a good glug of oil into a high-sided pan and add the onion and the garlic. Cook this until the onion is clear.
3. In a separate frying pan, cook the aubergine until it is golden. Put to one side.
4. When the onion is ready, add the peppers (if you want to add these to the dish) and cook them until they are golden. Then add the courgette, turn it a few times and add the aubergine that you had put aside. Season it, add half a glass of white wine and let it cook.
5. Once the alcohol has evaporated, add the tomato and herbs, check for salt and let it simmer on a slow heat for around 35-40 minutes, stirring once in a while.
6. These are the most common recipes prepared with, or accompanied by, the samfaina that you have just prepared, which makes the process quick and easy. Alternatively, while preparing the recipe, add the meat or fish so that it finishes cooking with the vegetables.
Chicken with samfaina
- Chicken with samfaina is a classic, due to its easy preparation and its exquisite flavour. Add olive oil to a saucepan, add pieces of chicken and then season. Once the chicken is golden to your taste, cover with a small glass of cognac and let it reduce.
- Meanwhile, heat up the samfaina you prepared earlier and add it to the chicken. Mix it well and add a sprig of thyme, check seasoning and let it cook for a further 15 minutes for the chicken to finish cooking.
- By following this same process, you can make rabbit with samfaina.
Cod with samfaina
- Cod with samfaina is another star dish of Catalan cuisine. It is very important to keep in mind that if you are going to use salted cod, you should defrost it for at least 48 hours before cooking.
- Dry the cod with a paper kitchen towel and coat it lightly with flour. Fry it on both sides until it is slightly golden but not cooked right through.
- Remove the fish from the heat and add it to the pan of vegetables. Cover the pan and let it rest for 5 minutes or so, until the cod has cooked fully.
These are some of the traditional recipes for samfaina. Try creating some new varieties and recipes of your own.