Legumes in summer and without spoon
The consumption of legumes contains endless benefits, not only nutritional, as they represent one of the main sources of proteins and amino acids of vegetable origin, but also for the environment, thanks to their great capacity to fix nitrogen, which contributes to increasing soil fertility, improving and lengthening the productivity of the land.




on today's menu
Share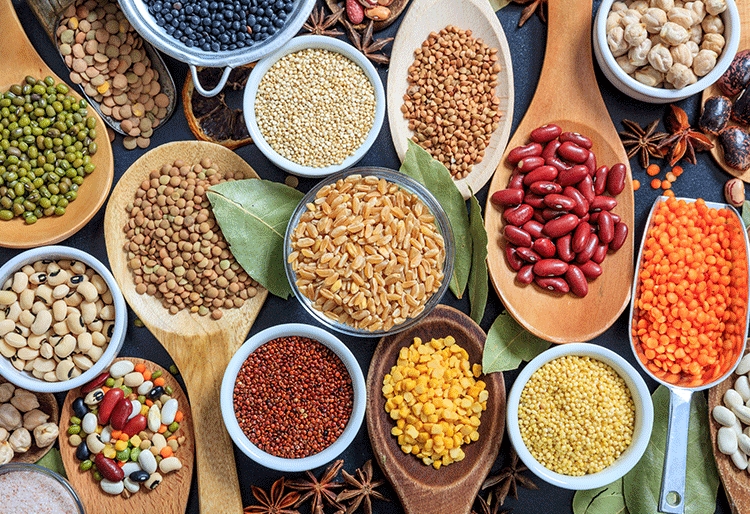 Legumes require little water, which allows them to resist droughts and frosts; for example, 50 litres of water are consumed to produce 1 kg of lentils or peas without skin, whereas to obtain 1 kg of chicken requires 4,325 litres of water.

As regards the consumption of legumes, it has gone from 40 g/day in the sixties, to 20 g/day in the nineties and only about 12 g/day today, very far from the 60-80 g/serving, raw, which are recommended 2 to 4 times/week.
The reason for this decrease may be linked to the mistaken belief that dishes eaten with a spoon cause weight gain, attributing the responsibility for the caloric increase to the vegetables and not to the chorizo, meat or extras which are incorporated into stews (since legumes are usually part of larger dishes), in addition to abdominal distension and the gases they generate, which can be minimised by soaking them the day before cooking, leaving them to rest in the cooking water or consuming them in puree or sprouts.
Some "tricks" which can reduce intestinal discomfort are: adding some spices to the vegetables while cooking or taking it off the boil when it has reached boiling point.
In this line, there are numerous scientific tests which show that the benefits of legumes increase in proportion to their consumption. Their richness in fibre is what allows:


1. Promotion of the feeling of fullness, helping to control body weight.

2. Speeding up intestinal transit, avoiding some digestive ailments.

3. Cooperating in the decrease of cholesterol through different mechanisms, reducing the risk of suffering from cardiovascular diseases.

4. As they provide complex carbohydrates, legumes have a low glycemic index. This means that energy is released to the body more slowly, avoiding glucose peaks.

5. They promote proper functioning of the nervous system (B1, potassium), immune system (iron, folic acid), fertility (zinc, folic acid) and good condition of bones and teeth (phosphorus).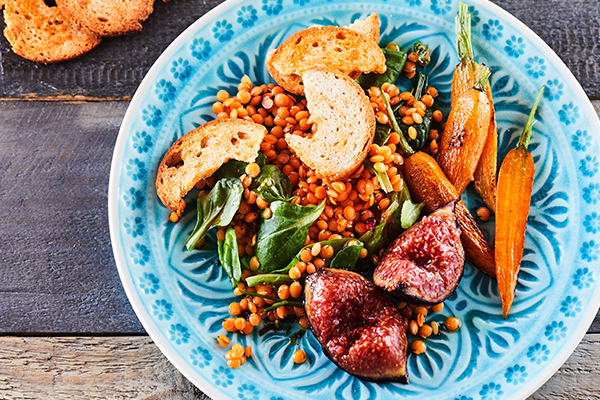 To enjoy a dish which includes the different nutritional benefits involved in their consumption, it is important to consider some aspects:


• Cleaning and Rinsing

• Soaking: Cold water should be used except in the case of chickpeas, in which case warm water and salt are used to soften the skin. The soaking time is approximately 8 to 12 hours.

• Cooking: Three parts of liquid are added for one of legumes. It is advisable to discard the water used for soaking, except in the case of black beans or pinto beans, where it is recommended to use the same water, thus avoiding excessive discoloration of the legume, which makes the dish less attractive (This latter point is more of a recommendation).

• Post-cooking: for legumes to come out whole and soft on the palate, the trick is to add cold water when they reach the boiling point and let them cook slowly. If they are chickpeas, hot water is added.


Chickpeas, broad beans, lentils, green beans, soybeans or peas, each with their gastronomic peculiarities, contribute to improving food security and nutrition.

To all these positive elements we can add the socioeconomic role which they play in many countries where women are mainly responsible for cultivation, strengthening their role within rural economies.


Cold cream of green beans and carrots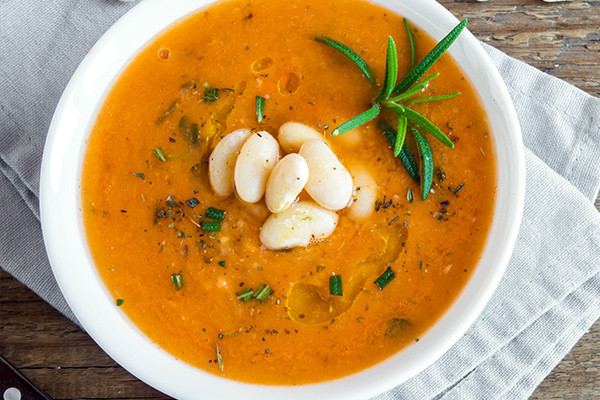 Ingredients (serves 4

)
• 300 g of Legumbres Luengo white beans
• 120 g of onions
• 60 g of leeks
• 200 g of potato
• 6 cloves of whole and peeled garlic
• 150 g of carrots
• 800 ml of homemade chicken broth
• 20 g of ham
• 40 grams of Olive oil
• Salt
• White pepper
Preparation:
• Place the greens beans, after soaking them in cold water for 12 hours, in a pot and cook until tender.
• When ready, cool them under the tap and drain.
• Sauté the beans in a pot with the rest of the chopped vegetables for about 2 minutes and then add the chicken broth
• Cover and boil for 10 to 15 minutes
• When the time is up, add salt and pepper. Beat with the blender and pass through the food processor. Let it cool before placing it in the refrigerator.
• Cook the ham slices in a griddle or pan until they are crispy. Chop and garnish the cream with it. You can also add a grated hard egg and a splash of extra virgin olive oil.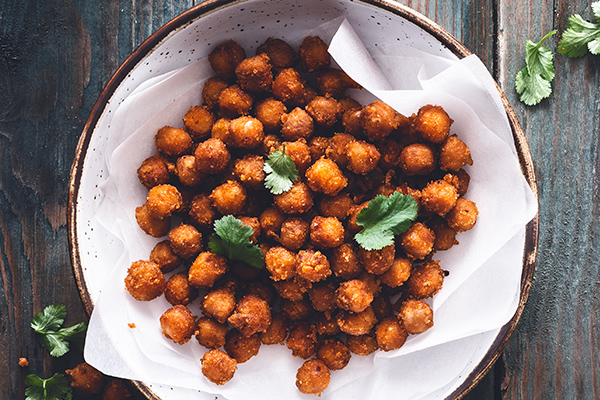 Ingredients (4 serves)
• 400 gr of dried but fresh and high-quality chickpeas
• 5 gr of sodium bicarbonate
• 40 gr of extra virgin olive oil
• 2 Garlic cloves
• 2 leaves of bay or fresh sage
• 2 sprigs of Fresh thyme
• 80 gr of white onion
• 1 gr of Sweet or spicy paprika, to taste
• 1 lit of Vegetable broth
• 80 gr of lemon
• Ground black peppe
• Salt
Preparation:
• Wash the chickpeas the day before and leave to soak with plenty of cold water (12 hours), the sodium bicarbonate and a teaspoon of salt. Discard the water.
• Preheat the oven to 175º C. Prepare an iron casserole dish, or a suitable source with a lid. Chop the onions and peel the garlic cloves. Put the chickpeas in the dish and sprinkle with the paprika, a little black pepper, thyme and add the bay. Sprinkle with the olive oil and mix gently. Cover with the broth or water, which should be covered by at least a finger of liquid.
• Add the chopped onions, lemon juice and garlic cloves. Cover and bake until the chickpeas are tender and the onion is fully roasted. Depending on the type of legume, the water and the soaking, it may take about 90 minutes or up to 3-4 hours. Watch from time to time in case you need to add more water. Serve with fresh dill or parsley, if desired.
Lentil, Carrot and Coconut Biscuits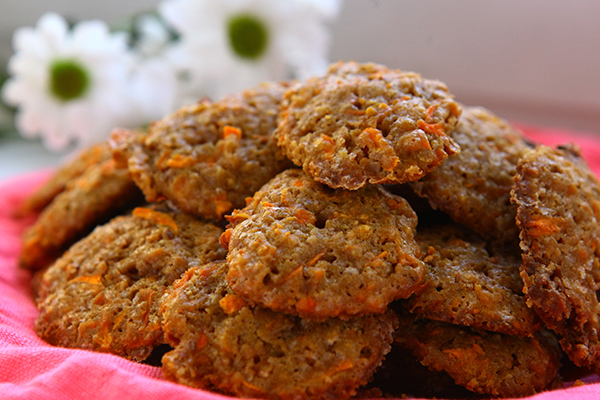 Ingredients (8 serves)
• 200 g Cooked red lentils
• 200 g Grated carrots
• 80 g sugar
• 1 Egg
• 200 gr Flour
• 100 gr Butter, at room temperature
• 50 gr Grated coconut
• 1 dessert spoon Vanilla essence
• 1 dessert spoon Bicarbonate or yeast
Preparation
• Preheat the oven to 180ºC and put baking paper on the tray.
• Mix the flour, baking soda, salt and put to one side.
• Then proceed to mix the butter with sugar, whisking until it forms a cream. Add the egg, the vanilla essence and the cooked lentils and continue beating.
• Add the flour and work until you get a good mixture.
• Finish adding the grated carrot and coconut, stirring well until fully incorporated.
• Put small portions on the tray, trying to keep them the same size, using two dessert spoons.
• Let it cook for 15 minutes, until the cookies are golden brown, then take them out and let them cool.