Properties of pineapple you didn't know about
Do you know about the properties of pineapple? Now they are coming into season, it's the perfect time to take advantage of their benefits in our recipes

fresh food
Share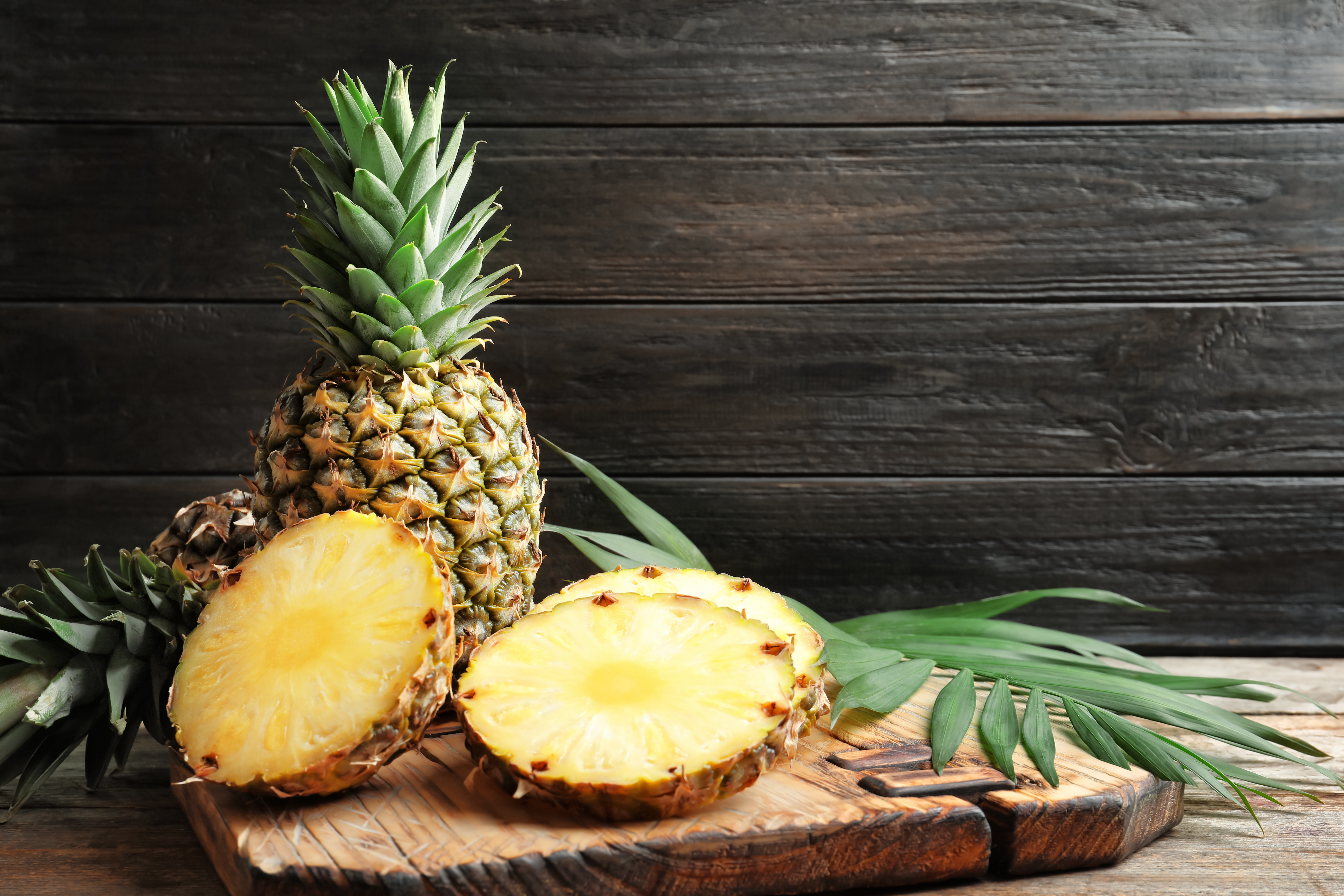 This fruit, which originates from Brazil and has a unique aroma, has a firm and stringy texture which means it is normally eaten raw, but it can also be included in numerous recipes. Salads, desserts, milkshakes, sauces and, of course, juices are some of the options for using this fruit as a main ingredient. In addition, the properties of natural pineapple are so vast that it is a fruit you must include in your diet.

Still not sure of its benefits? We'll tell you:
Benefits of pineapple
If you are wondering which vitamins pineapple contains, you should know that vitamin C is one of the nutrients with the biggest presence, making it one of the fruits with the highest antioxidant power. Eating pineapple is synonymous with protecting our body against the ageing of cells and strengthening your immune system. This delicious tropical fruit also contains vitamin B6 and folic acid, although in smaller quantities. Additionally, it is rich in manganese which helps to keep bones healthy and protect cells against oxidative damage.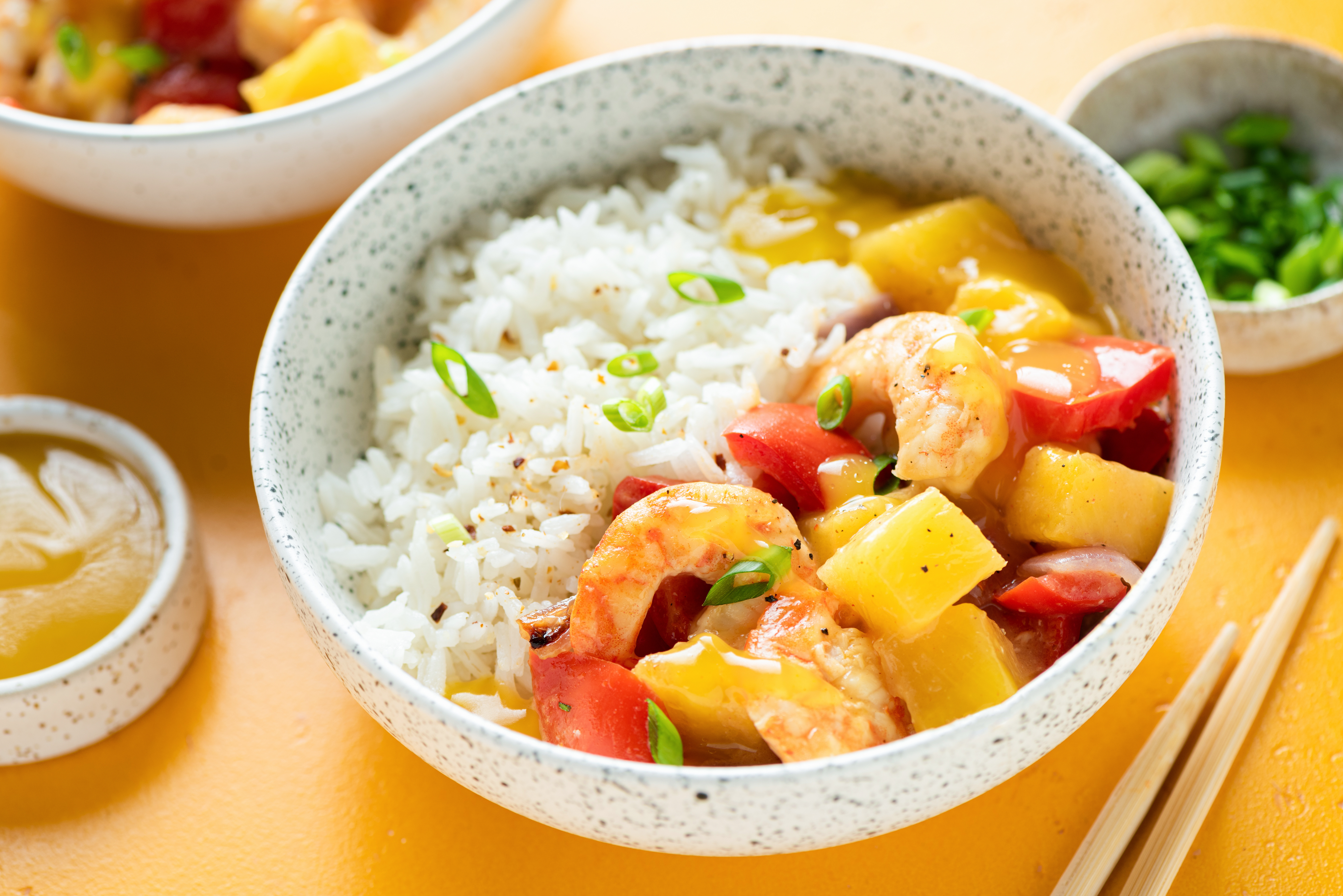 Nutritional value of pineapple
Calories: 49 kcal
Proteins: 0,4 g
Fats: 0,2 g
Carbohydrates: 11,3 g
Fibre: 1,5 g
Are there any drawbacks to eating pineapple?
Unless you are allergic to this fruit, it's generally safe for most people who eat a healthy and balanced diet.
Recipes with pineapple
The sweet and acidic nuances of this tropical fruit make it a fantastic ingredient for cooking both sweet and savoury recipes. Although we are more used to seeing pineapple in the form of desserts, ice creams or milkshakes, there are a wide range of recipes it can be included in. It adapts to salads, to being barbecued, grilled and, of course, it can be included in sauces. Let's take a look at some simple recipes that include pineapple:
400 g pineapple
24 prawns
1 tin coconut milk
1 tablespoon coconut oil
1 stalk lemon grass, chopped
2 tablespoons ginger, freshly chopped
2 tablespoons curry powder
1 tablespoon coriander powder
2 teaspoons brown sugar
1 tablespoon fish sauce
Cooked white rice as accompaniment
Coriander to garnish
1. First, peel and chop the pineapple and peel the prawns. Heat the coconut oil in a wok on a medium-high heat and add the chopped lemon grass, ginger, coriander powder and fry. Once everything is mixed together, add the curry powder and cook for one minute.

2. Then add the coconut milk and reduce to minimum heat. Cook for 10 minutes until the sauce thickens.

3. Now it's time to add the pineapple and cook on a low heat for five minutes. After that time, add the prawns and cook for three more minutes.

4. At this point, you just need to add the sugar and fish sauce to season. Serve accompanied with a portion of white rice and a few coriander leaves in each dish.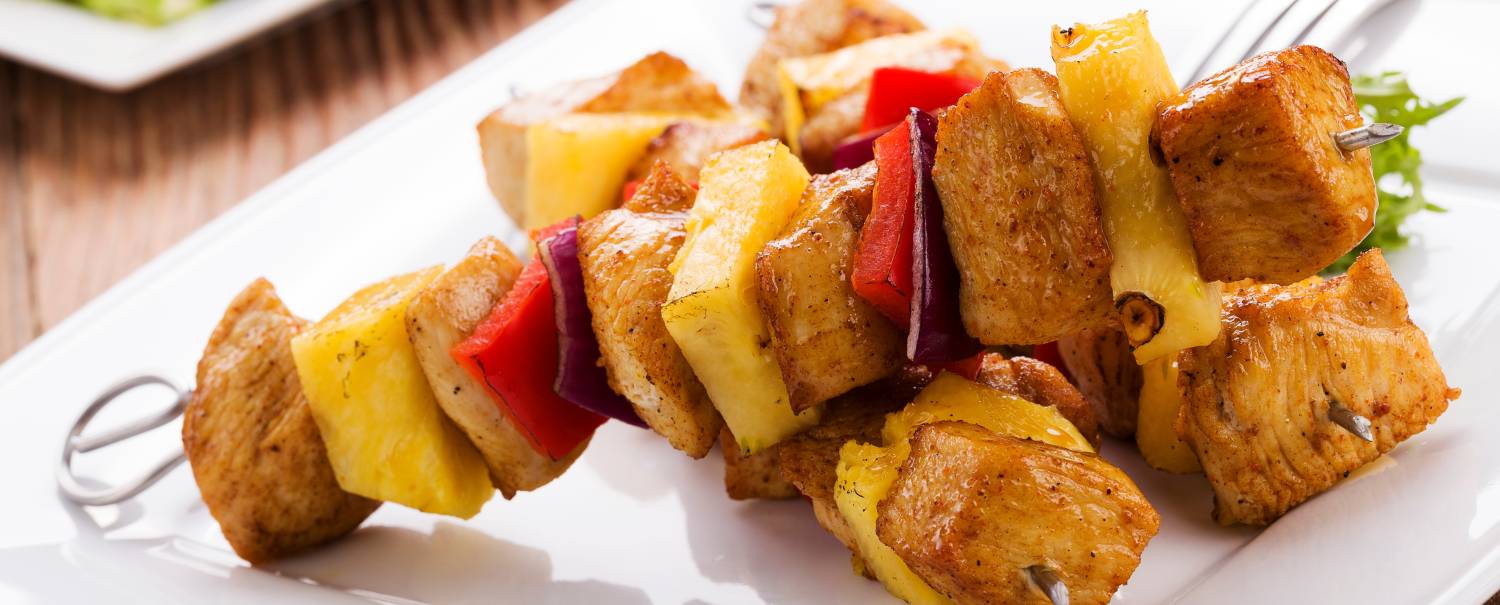 Chicken and pineapple skewers
1 kg chicken breast
1/2 pineapple
1 tablespoon oregano
Extra virgin olive oil
Ground black pepper
Salt
1/2 red pepper
1. Firstly, place the chicken breasts on a chopping board and cut into cubes, not too small, with the help of a sharp knife.

2. Place chunks of chicken in a bowl and add salt and ground black pepper. Pour a drizzle of extra virgin olive oil onto the meat and stir well so the chicken takes on the taste of the other ingredients. Add the oregano and stir again.

3. Next, cover the bowl with cling film and place in the fridge to marinate for 30 minutes. Use this time to chop the pineapple, removing the core and dice the pineapple. Do the same with the red pepper.

4. Once you have the pepper and pineapple ready, remove the bowl of chicken from the fridge and assemble the skewers, alternating pieces of chicken with pieces of pineapple and pepper.

5. Finally, pour a drizzle of extra virgin olive oil onto a griddle or frying pan and, when it reaches the desired temperature, start to position the skewers on the pan and leave to cook until they are golden on both sides.


Pineapple lemonade
1 litre pineapple juice
1 drizzle lemon juice
1⁄2 lemon
1⁄2 pear
1⁄2 apple
1 chunk pineapple
4 slices pineapple in syrup
Ice cubes
Mint
Mix the pineapple juice with the lemon juice and ice in a jug. Next, wash all of the fruit and cut into cubes. Then add the fruit to the jug, mix thoroughly and serve in glasses. You can decorate each glass with a slice of pineapple and some mint leaves. Spectacular result!